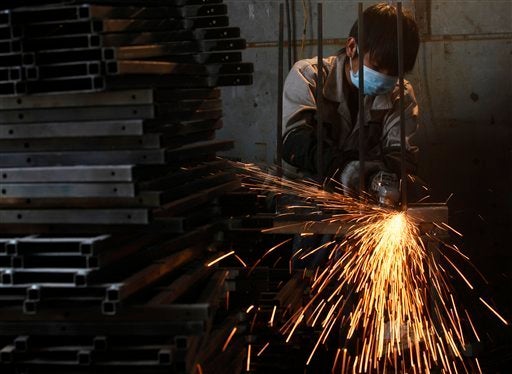 But his two picks to run a White House Office of Manufacturing Policy -- Commerce Secretary John Bryson and National Economic Council Director Gene Sperling -- raised some of the same concerns that arose when Obama named General Electric CEO Jeffrey R. Immelt as his top adviser for job-creation efforts.
Ron Bloom, a former senior official for the United Steelworkers who had also served as Obama's "car czar," stepped down from his job as assistant to the president for Manufacturing Policy in August.
"It is gratifying to see, after such a long wait, replacements being named for Ron Bloom, who so honestly and well represented the manufacturing sector as the President's Manufacturing Czar," Leo Hindery, a former CEO who heads the US Economy/Smart Globalization Initiative at the New America Foundation, and is one of the foremost advocates of a U.S. industrial policy, said in an email.
"However, it is disappointing that it couldn't be people whose bona fides re: the manufacturing imperative are clearer and more established," Hindery wrote. "How is this so much different than having Jeffrey Immelt of General Electric head the President's Jobs Council when GE under Mr. Immelt's stewardship has offshored many more American jobs than it has created?"
Bryson previously led Southern California Edison, a massive utility company, and served as Boeing's longest-serving director. Sperling, who has held a series of senior economic policy jobs in both the Clinton and Obama administrations, is a lawyer by training. In between the two Democratic administrations, he did lucrative consulting work that in 2008 alone netted him $2.2 million, including $887,727 from Goldman Sachs for a part-time job advising it on its charitable giving and $158,000 for speeches mostly to financial companies.
Obama said in a statement on Monday: "At this make or break time for the middle class and our economy, we need a strong manufacturing sector that will put Americans back to work making products stamped with three proud words: Made in America."
Just last week, the Council on Competitiveness, a nonpartisan business and labor group, became the latest group to criticize the U.S. approach, concluding that "policy prescriptions for manufacturing are in disarray."
Indeed, the nation currently lacks any unified industrial policy, which could entail such things as a sustained program to encourage homegrown industry, a more assertive trade policy, the chartering of a national development bank, ending the favorable treatment of foreign investments, creating new tax credits for research and development, and actively discouraging offshoring.
Bloom, reached by The Huffington Post on Monday, did not join the criticism of his successors. "Everybody brings a different set of skills to the party," he said. "Obviously I had a bunch of background in labor."
"There are multiple good ways to attack this problem," Bloom said. "I don't know if this one is going to work. No one can know." But he added: "I think this president has demonstrated more commitment and interest to manufacturing than any president has in a long time."
House Democratic Whip Steny H. Hoyer (Md.) responded enthusiastically to the news. "By appointing Commerce Secretary John Bryson and National Economic Council Director Gene Sperling to co-chair the White House Office of Manufacturing Policy, the President again demonstrates his commitment to expanding U.S. manufacturing," he said in a statement.
Calling all HuffPost superfans!
Sign up for membership to become a founding member and help shape HuffPost's next chapter