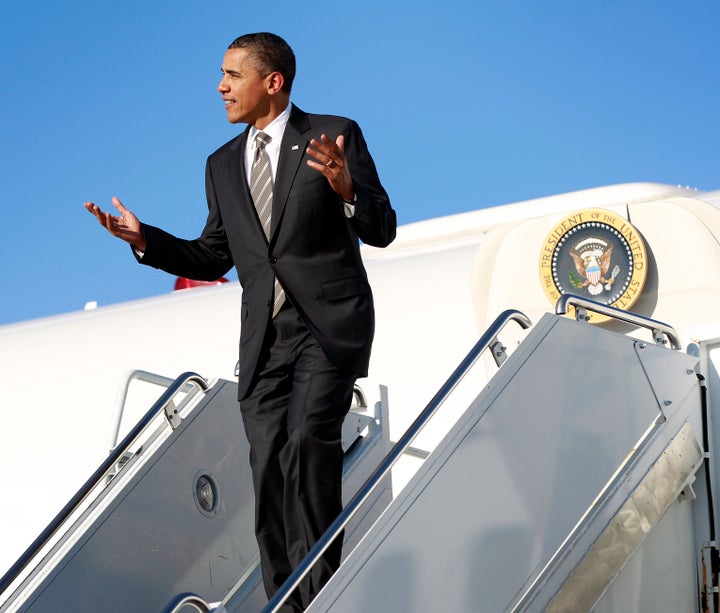 A forthcoming biography on President Obama is making headlines, with new details about the president smoking marijuana with his teenage friends in Hawaii.
David Maraniss' book, Barack Obama: The Story, describes Obama as a marijuana enthusiast: "When a joint was making the rounds, he often elbowed his way in, out of turn, shouted 'Intercepted!' and took an extra hit," Maraniss writes. Maraniss also describes Obama's technique of "roof hits" while hot-boxing cars. "When the pot was gone, they tilted their heads back and sucked in the last bit of smoke from the ceiling," he writes. Obama has been less than shy about his drug use in the past, writing about the topic in Dreams from My Father, "Pot had helped, and booze; maybe a little blow when you could afford it," he writes in the memoir.
While Obama's term began with great promise for drug policy reformers, in the past two years it has been difficult to distinguish Obama's drug policies from those of his White House predecessors. Although President Obama has acknowledged that legalization is "an entirely legitimate topic for debate" -- the first time a sitting president has made such a statement -- his administration has made a string of increasingly disappointing moves over the last year. Half of all U.S. drug arrests are for marijuana -- more than 850,000 Americans were arrested for marijuana in 2010 alone, 88 percent for mere possession.
Barack Obama won a lot of hearts and minds some years ago when he talked so openly and frankly about his youthful marijuana use. That contrasted refreshingly with Bill Clinton's hemming and hawing about not having inhaled, much less George Bush's refusal to even acknowledge what old friends revealed about his marijuana use.

But the president has been losing lots of hearts and minds, especially those of young voters, with his striking silence on marijuana issues since he became president -- apart from providing lame excuses for the federal government's aggressive undermining of state medical marijuana laws.

Most disappointing is his failure to say a word as president about the fact that half of all drug arrests each year are for nothing more than possessing a small amount of marijuana, which is something Barack Obama did lots of in his younger days, or to offer any critical comments about the stunning racial disproportionality in marijuana arrests around the country.

Roughly twice as many people are arrested for marijuana possession now as were arrested in the early 1980s, even though the number of people consuming marijuana is no greater now than then. If police had been as keen on making marijuana arrests back then, it's quite possible that a young man named Barry Obama would have landed up with a criminal record -- and even more likely that he would not have his current job.

With 50 percent of Americans -- and 57 percent of Democrats -- now in favor of legalizing marijuana use, according to Gallup's most recent poll, President Obama needs to come clean once again about marijuana -- but this time he needs to speak not of his own youthful use but rather of the harmful consequences of today's punitive marijuana policies for young Americans today.

Ethan Nadelmann is the executive director of the Drug Policy Alliance (www.drugpolicy.org)
Popular in the Community