President Barack Obama may have just had his favorite day as leader of the free world.
At a White House science fair on Tuesday, during which Obama announced a plan to request funding for a new Education Department competition to support math and science teacher preparation programs, Obama perused projects designed by more than 100 students from across the country.
With his science geek on full display, Obama also gleefully partook in a demonstration of the "Extreme Marshmallow Cannon," blasting pillowy bits of sugar at the drapes of the State Dining Room. It's safe to say the president was impressed by the contraption, built by 14-year-old Joey Hudy from Phoenix, Ariz.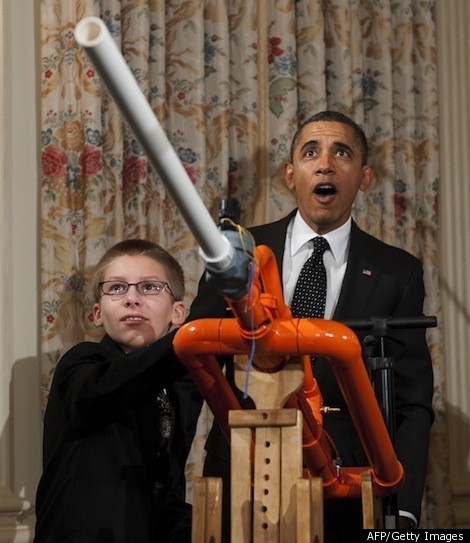 Video of the launch below:
The White House pool report has more on Hudy and his creations:
Student "Making" and Starting Small Business to Sell his Invention. Fourteen year old Joey Hudy from Phoenix, Arizona is already a Maker Faire veteran. He invented an Extreme Marshmallow Cannon and an LED Cube Microcontroller Shield, which he has exhibited at Maker Faires in New York, San Francisco, and Detroit. He received 2 Editors Choice Awards from Maker Faire, and has started a small business selling the microcontroller (Arduino) shield kits on several websites. As the World's Largest Do-It-Yourself Festival, Maker Faire is the premier event for grassroots American innovation.
During his address, Obama also made "a special plea" to the media, encouraging them to dedicate coverage to the issues that were raised at the event.
"Pay attention to this. This is important," Obama said during remarks in the East Room. "This doesn't just belong on the back pages of a newspaper. We've got to lift this up and emphasize how important this is and recognize these incredible young people. This is what inspires me and gets me up every day."
Take a look at the rest of Obama and Hudy's photo op and vote on your favorite picture: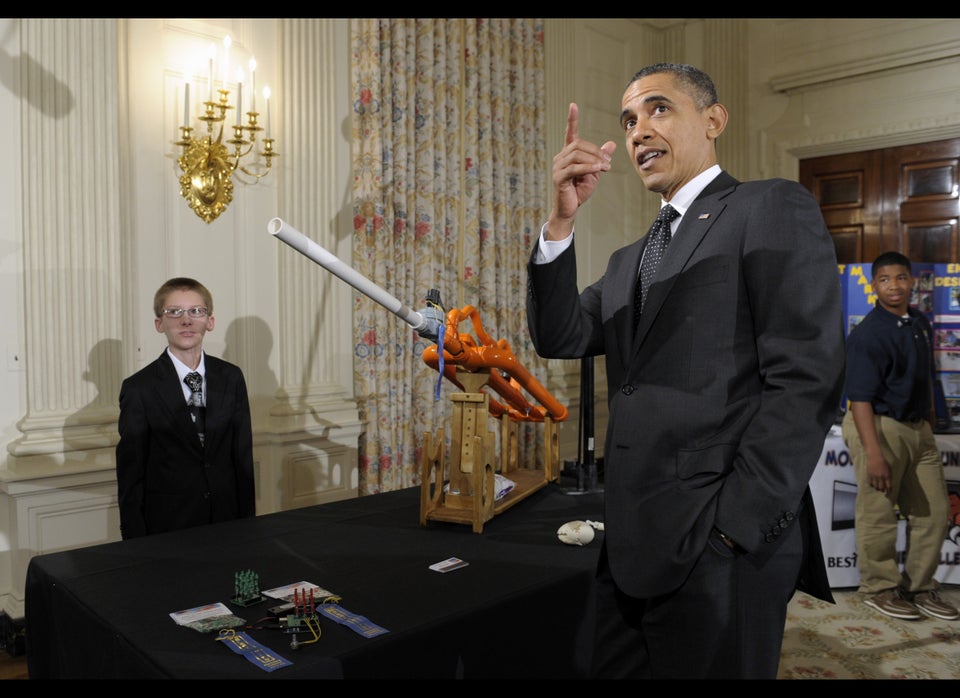 Obama Extreme Marshmallow Cannon
Popular in the Community