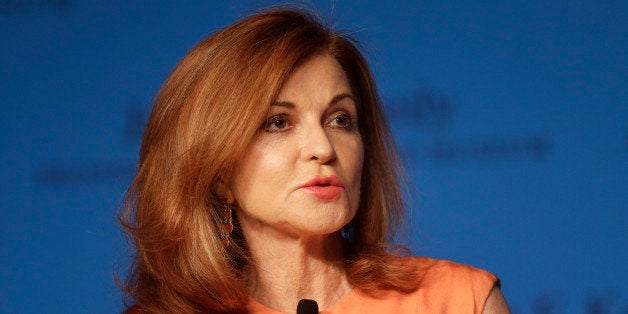 NEW YORK -- President Barack Obama is an avid reader of the New York Times opinion section and has, on several occasions, invited two of his favorite columnists -- Tom Friedman and David Brooks -- over to the White House before rolling out major policy initiatives.
But Obama is apparently not a fan of Maureen Dowd, another high-profile writer in the Times opinion stable. Former top Obama adviser David Axelrod wrote in Believer, his memoir published Tuesday, that "no one got under Barack's skin more than Maureen," and suggested she altered her coverage after a tense meeting with the president, a charge she rejects.
Axelrod recalled how Dowd was granted a brief interview during an overseas 2008 campaign trip with then-candidate Obama. When the two were together, he wrote, Obama "proceeded to blister her for a previous column she had written."
The former adviser wrote that Dowd's "penchant for delving into the psyches of her subjects was particularly irritating to the self-possessed Obama."
"Normally polite under any circumstances, he was patronizing and disrespectful to Maureen in a way I had rarely seen," Axelrod continued. "This was not well received by Dowd who, like most journalists, was accustomed to firing off salvos, yet decidedly uncomfortable when fired upon herself. After that awkward encounter, she seemed to take particular delight in psychoanalyzing Barack and belittling him in print, which only deepened his contempt. Maureen, who is as gracious and loyal to her friends as she is rough on the high and mighty, would become a friend of mine in Washington, which became a minor source of tension with Obama. 'Why are you friends with her?' he would demand after Maureen sent one of her acid darts his way."
Dowd said in an email to The Huffington Post that she remembered the exchange with Obama, but denied that she had changed her approach to covering him as a result.
"I write about him according to how he's doing, not how he's treating me," Dowd wrote. "The idea that I punished him for giving me his opinion is not true and plays into an unfortunate stereotype of women, the Furies swooping down."
Axelrod didn't specify which 2008 column particularly rankled Obama, but Dowd did write about Obama's big foreign trip during the campaign.
In a July 20 column from Washington -- "Ich Bin Ein Jet-Setter" -- Dowd described Obama gearing up for the trip through Afghanistan, Iraq, Jordan, Israel and Germany in mythological terms. Obama, she wrote, "has to swiftly and convincingly perform the political equivalent of the Labors of Hercules." In her next column, written July 23 from Jerusalem, Dowd asked whether "The One" -- as Sen. John McCain's campaign had mockingly described the Democratic nominee -- was "cocky or commander in chiefy?"
"If you look at my columns before and after that meeting, there's the same mix of sweet and tart," Dowd told HuffPost. "In my column the day after the election, "Bring On The Puppy and The Rookie,'' I wrote about "the elegant and disciplined Obama" who "has the chance to make the White House pristine again.'' In my Inaugural column, I wrote about "the cool new president'' making Washington "wholly, happily integrated."
While Dowd did score an invite from Obama after the heated exchange on the plane, gathering with several other columnists and the president-elect a week before 2009 inauguration, she hasn't been among the columnists at Obama's more recent off-the-record discussions at the White House.
Dowd acknowledged that her columns grew more critical of Obama through his first six years in office, but said the shift was a reflection on his "governing and leadership, not my relationship with him."
"If anyone acted out of spite, I'd say it was the White House, which ... no longer invites me to the President's background briefings for the columnists while continuing to invite my male colleagues, even though they, too, have written some critical things about the President," Dowd said. "But here again, while I'd like to be included, that is not a consideration in what I write."
This article was updated after publication to include comment from Maureen Dowd.
Related
Popular in the Community