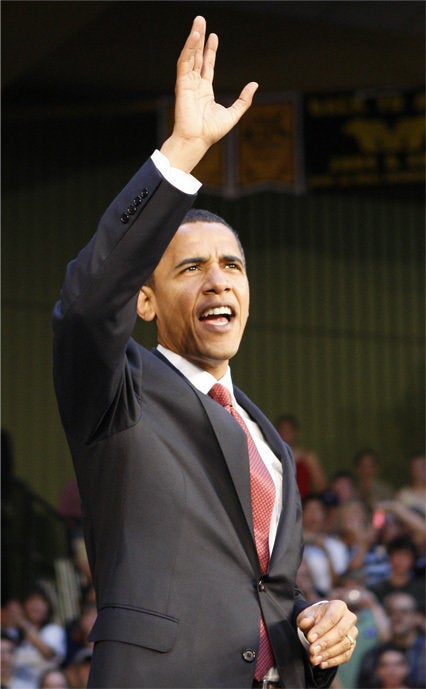 During a speech at a local high school here, Obama said voters should be concerned that "after nearly three decades in Washington, John McCain can't see or won't acknowledge what's obvious to all of us here today -- that lobbyists aren't just part of the system in Washington, they're part of the problem."

"The fact is, John McCain's campaign is being run by Washington lobbyists and paid for with their money," Obama said. "Senator McCain has been a candidate in this race for more than a year, but it was only in the past few days, when stories surfaced publicly about his lobbyist aides and their clients, that Senator McCain took any action to curb their roles."...

"And just yesterday, Senator McCain's national finance co-chair had to resign after it was revealed that he lobbied Senator McCain and others on behalf of the government of Saudi Arabia," he said, eliciting boos. "I'm glad Senator McCain is taking these steps. But it's noteworthy that two of the most influential corporate lobbyists in Washington have taken time off to run his campaign. And they are still at the helm today."
The comments come after a series of high-profile resignations amid the McCain camp, where several advisers to the candidate also hold lucrative, and sometimes controversial, lobbying positions. Notably, three advisers -- Charlie Black, Tom Loeffler and Peter Madigan -- have been targeted by critics for their firms' histories of lobbying dictators accused of human rights abuses. Tom Loeffler resigned from McCain's campaign this weekend as a result of his lobbyist ties. The campaign has also rolled out a series of strict conflict-of-interest rules for all staff.
Charlie Black has opted to defend his work, saying he is "not ashamed of anything [his] firm did." Black's firm has lobbied on behalf of several dictators in recent years, including Ferdinand Marcos, Mobutu Sese Seko and Jonas Savimbi. Today, Black denies any conflict of interest:
Black said he complied with the policy "before there even was a rule." Black said he has no income from either his firm or the campaign but joked about an allowance from his wife, Judy Black, who is a lobbyist....

Black also defended campaign manager Rick Davis, who still holds a stake in his firm, Davis Manafort. Black said Davis hasn't received income from the firm since 2006 and hasn't been a lobbyist for five years. "By the way Rick Davis and nobody else at his firm either has been a registered lobbyist in five years-five years," Black said.
As for Davis, he was registered as a lobbyist at least a recently as 2005, according to a disclosure report provided by the Democratic National Convention. DNC Communications Director Karen Finney offered this response to Black's statements today:
Given what we are learning about their client lists, it's understandable why Charlie Black would try to distort the record on the lobbyists running the McCain campaign. But the question is whether Charlie Black is lying, or do the lobbyists running McCain's campaign have so many clients he can't keep them all straight?"
Popular in the Community