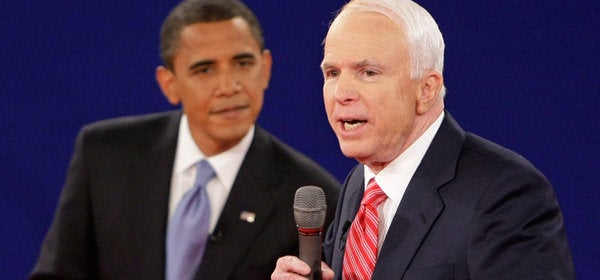 As the 2008 campaign nears its conclusion, the presidential transition efforts of the two major candidates have become a study in contrasts: Sen. Barack Obama has organized an elaborate well-staffed network to prepare for his possible ascension to the White House, while Sen. John McCain has all but put off such work until after the election.
The Democratic nominee has enlisted the assistance of dozens of individuals -- divided into working groups for particular federal agencies -- to produce policy agendas and lists of recommended appointees. As evidence of their advanced preparations, officials provided a copy of the strict ethics guidelines that individuals working on the transition effort are required to sign.
John McCain, by contrast, has done little. Campaign spokespersons did not respond to requests for elaboration. But one official with direct knowledge, who spoke on the condition of anonymity, expressed concern with McCain's approach. The Arizona Senator has instructed his team to not spend time on the transition effort, according to the source, both out of a desire to have complete focus on winning the election as well as a superstitious belief that the campaign shouldn't put the cart before the horse.
Virtually every modern non-incumbent presidential candidate has organized, during the course of the campaign, a transition effort to prepare for the early months of a potential administration. These teams help build lists and vet individuals who could serve in key government posts. They hammer out proposals to facilitate policy making from day one. And they work closely with outgoing administration officials to better understand the true lay of the political land.
Governance scholars consider the process invaluable, particularly as the nation struggles with a major economic crisis, two active wars, and a range of domestic security threats. "Our enemies understand how potentially vulnerable we are in the transition from one administration to the next," Clay Johnson III, former Executive Director of the Bush-Cheney Presidential Transition, said recently at a forum on transition planning. "This is something we need to be very, very seriously prepared for."
With 100 or so days before the next president takes office, Obama's transition effort has been organized into roughly a dozen teams of six to eight people to plot out the approach for each agency, according to a Democratic official. The ethics code governing the process prohibits staff from working on subjects that could be deemed a financial conflict of interests, either to that member or that member's family.
Under the code - a copy of which can be viewed here - lobbyists will be able to serve on the Obama transition team provided it has been more than a year since he or she lobbied on the subject to which they have been assigned. Current federally registered lobbyists will not be "permitted to serve in a titled role for the Obama Transition Project," nor for that matter will they be allowed to "contribute to or collect contributions for the Obama Transition Project."
There is less known about what the McCain campaign has been doing, partially because there are fewer details to unearth. The GOP nominee has tasked his transition to William Timmons, a well-known Washington hand and long-time lobbyist. According to a source close to the effort, Timmons has held conference calls with campaign officials and is plotting out various aspects to the impending transition. There is not, at this time, an ethics policy in place, the source says.
A call to Timmons went unreturned. "Bill does not talk to the press but I'll tell him you called," said his secretary. "Thank you."
The disparate approach that each campaign has taken to the transition process is in some ways a reflection of the personality of the candidates themselves. Obama's efforts have been criticized as presumptuous by the McCain campaign. But veterans of the process argue that the well-organized plan that Obama is pursuing will help ensure smooth continuity between administrations, not to mention avoid embarrassing political hiccups.
"Government is becoming more complex and the time it is taking to put a leadership team in key departments is taking longer," said P.J. Crowley, who heads the Homeland Security Presidential Transition Initiative at the Center for American Progress. "I think that if a campaign is waiting until November 5 to start the transition process, they are going to be behind. It is not being presumptuous -- it is being prudent to be prepared before the election so that you can at least make the transition process effective as possible and be ready to govern on January 20."
The president and CEO of the Center for American Progress, former White House chief of staff John Podesta, is reportedly heading up Obama's transition team.
McCain, in contrast, appears willing to tackle important aspects of his potential transition in real time. It is a stance that fits the Senator's sometimes ad hoc approach to politics, and one that allows him to focus staff and resources on the pending election. McCain's transition would also be less drastic than Obama's since, in all likelihood, there will not be as vast an ideological and staff shift.
But this approach could create significant obstacles down the road. For example, as Crowley notes, Defense Secretary Donald Rumsfeld had only a fraction of his leadership team in place on 9/11 - roughly eight months after President Bush took office.
"It is irresponsible not to have a well organized, thoughtful vigorous transition, right now," said Mickey Kantor, a Clinton administration official who was there for the 1992 transition and who has consulted with the Obama campaign about its efforts. "I am surprised that John McCain would take that position. This government is very complicated. And I don't care how many years you have spent on it you don't truly understand it until you get to the middle of it."
Popular in the Community