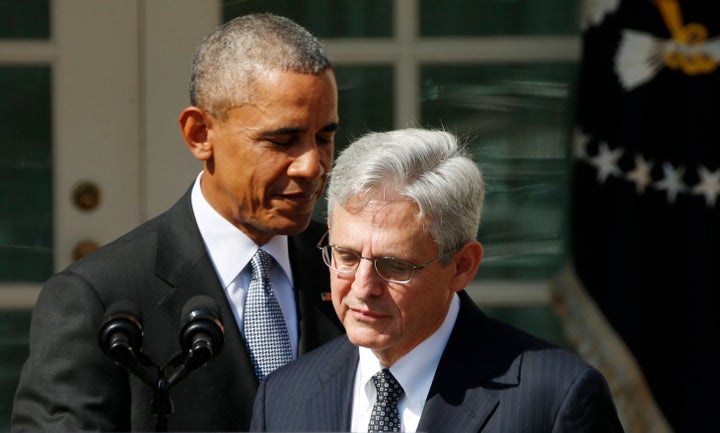 Merrick Garland paid the White House a visit this week — not to talk about his long-stalled Supreme Court nomination, but to get a shout-out from the president.
It happened during a Hanukkah reception Wednesday in the East Room, scheduled weeks in advance of the holiday's actual observance to make room for President Barack Obama's traditional Hawaii vacation, his last while in office.
"We've got one of the country's finest jurists, who I happened to have nominated to the Supreme Court and who's going to continue to serve our country with distinction as the chief judge on the D.C. Circuit," Obama said, to cheers from the audience. "Merrick Garland is here."
The mood was festive, so you'd be forgiven for not catching that the president appeared to concede that Garland, who has been waiting 247 days for a Senate hearing on his nomination, won't get to sit on the Supreme Court. And that the highly regarded judge will return to his work on the U.S. Court of Appeals for the D.C. Circuit, from which he has taken a break while his nomination remains pending.
Asked if Obama was acknowledging defeat, a White House spokeswoman played it cool. "I don't have more to add to what the President said tonight," Brandi Hoffine said in an email.
Under the Constitution, Obama could try to play one last trump card: his recess-appointment power between sessions of Congress. With it, Garland could sit on the court for up to a year.
Sixty years ago, the late Justice William Brennan, for whom Garland clerked, began his storied career on the Supreme Court with a recess appointment from President Dwight Eisenhower. And yes, it was an election year, the Senate was out of town until January, and Brennan went on to become a liberal lion on the court. (Eisenhower was also a Republican and won re-election, but that's a different story.)
Obama is unlikely to go wild during those five minutes of seemingly unfettered constitutional power. David Dayen, writing in The New Republic, argued last month that Obama should do exactly that, and then simply watch Senate Republicans rend their garments because Donald Trump is really the only one a minority of voters determined should be filling Supreme Court vacancies.
Instead, Obama's holiday send-off for Garland suggests none of that will happen. And that the judge, despite Republican recalcitrance, will preserve his dignity and reputation as one of the most qualified Supreme Court nominees this nation will never get to see in action.
In Obama's words: "One of the country's finest jurists."
Popular in the Community