WASHINGTON -- It's over for Michael Boggs. Like, really over.
Georgia Sens. Johnny Isakson (R) and Saxby Chambliss (R) said late Tuesday night that President Barack Obama won't renominate Boggs next year for a lifetime post on the U.S. District Court for the Northern District of Georgia. The news is a major victory for progressives who have fought Boggs' nomination all year.
"It is with regret that we announce that the President will not re-nominate Judge Michael Boggs to the United States District Court for a third time. We were informed of the President's decision by Denis McDonough, the President's chief of staff, prior to Thanksgiving. We regret the President's decision, as we have supported Judge Boggs throughout this process and remain steadfast in our support," the senators said in a statement.
They continued, "Throughout the process, Judge Boggs has exhibited enormous restraint and the temperament expected of a jurist. These traits will serve him well for the opportunities we are confident the future holds for Judge Boggs. We wish him the best and thank him for his service to the people of Georgia."
A White House spokesman confirmed that Obama won't renominate Boggs, but offered no additional comment.
Progressive groups and Senate Democrats threw everything they had at Boggs this year, determined to sink his nomination over his socially conservative track record. Abortion rights groups objected to votes he took as a Georgia state legislator to create "Choose Life" license plates and to post online the names of abortion providers at a time of high clinic violence. Civil rights leaders opposed him because of his vote to keep the Confederate insignia on the Georgia state flag. Gay rights groups opposed him for sponsoring a constitutional amendment to ban same-sex marriage.
It became clear earlier this fall that Boggs wasn't going anywhere this year, when Senate Judiciary Committee chairman Patrick Leahy (D-Vt.) announced the Democratic votes weren't there to confirm him, and suggested that Obama withdraw the nomination. The lingering question has been whether the president would renominate Boggs in the new year, when Republicans control the Senate and would likely back him.
The White House calculation appears to be that it's not worth picking another fight with Democrats over the nomination.
Rep. David Scott (D-Ga.), one of Boggs' loudest critics, was thrilled with the news.
"I'm glad that the president has closed the door on this nomination so we can start the new year looking ahead, not back," Scott told HuffPost. "There are hundreds of qualified attorneys in Georgia who could serve as a federal judge and I ask that an open and fair process be used to select the next nominees."
NARAL Pro-Choice America, one of the groups that led the charge against Boggs, also celebrated the news.
"We're pleased that the deep concerns of tens of thousands of people and over 40 organizations were heard and that there will be one less federal judge who puts his personal ideology ahead of the constitutional rights of all Americans," said NARAL President Ilyse Hogue. "2015 will be a better year because Michael Boggs will not hold the fate of millions of Americans in his hands."
Obama had initially nominated Boggs as part of an all-or-nothing package of seven Georgia judicial nominees agreed upon by the president, Chambliss and Isakson. Some, like Boggs, were GOP picks and others were Democratic picks. The other six in the package were confirmed this year, but Boggs was held back.
Boggs' attorney Douglas Chalmers declined comment.
This post has been updated with comments from Scott and Hogue.
Before You Go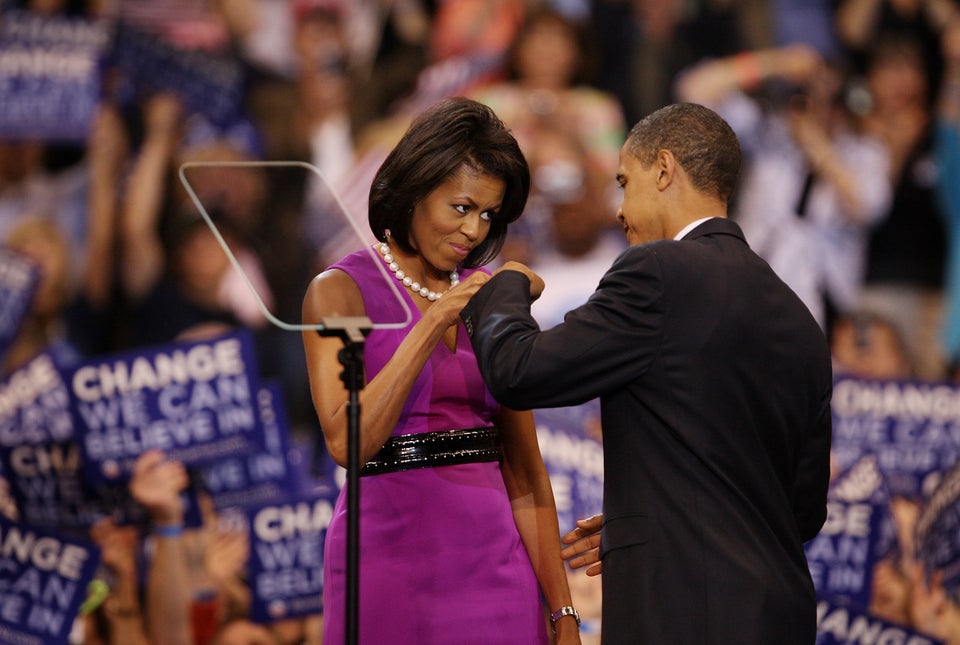 Obama's Fist Bumps
Popular in the Community