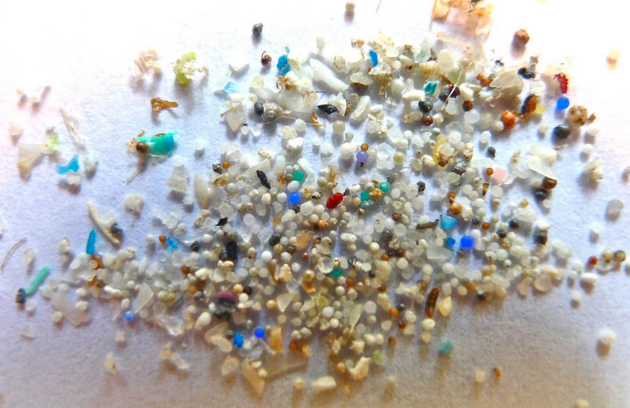 Stiv Wilson chose his battle three and a half years ago. The problem is, he still doesn't know who all his opponents are.
An environmental activist fixated on curbing plastic pollution in the oceans he loves to surf and sail, Wilson focused his efforts on eliminating microbeads, the tiny plastic particles most commonly used as exfoliants in facial scrubs, body washes and toothpastes. Polyethylene plastic beads don't disintegrate or biodegrade, and about 8 trillion beads ― enough to cover more than 300 tennis courts ― end up in waterways across the United States every day.
In December, Wilson claimed victory when President Obama signed a bill outlawing microbeads from rinse-off cosmetics by mid-2017. Targeting those products was easy ― the U.S. Food and Drug Administration already required companies to disclose such ingredients used on skin or teeth. But the narrowly focused legislation left open a gaping loophole, allowing companies to quietly continue using microbeads in myriad products, including detergents, sandblasting materials and cosmetics that can be left on the skin. Identifying all those firms proved impossible.
Now, as campaigners push for bans in the United Kingdom and Australia, they face the same challenge as the activists in America: figuring out which companies use tiny plastics in their products.
"We recognized that there were other products with microbeads, such as detergents, sandblasting materials and a few other applications, all of which we don't ultimately know yet," Wilson, director of campaigns at the environmental nonprofit Story of Stuff Project, told The Huffington Post.
"I was looking at patent records to see what patents had been filed for various applications, but it was really unclear ― there are bazillions of products in the marketplace and it's difficult to determine which have microbeads or not," he added.
While companies like Unilever, Johnson & Johnson and Procter & Gamble ― all of which must phase out microbeads from their consumer cosmetics ― are household names peddling recognizable brands, most companies selling detergents and sandblasting materials are business-to-business firms, meaning they don't have brands that environmental advocates can name and shame.
"We don't really know what products they're in or not because there are no FDA guidelines demanding that you disclose the ingredients," Wilson added. "But we didn't think we could win on all of them."
Still, he had a plan. In 2014, by pushing for statewide bans in California and New York, he and his fellow campaigners hoped to force a de facto ban on microbeads around the country. No company, Wilson posited, would formulate one version of a facial scrub for the combined 58.5 million people in two of the most important U.S. markets, only to make separate products for shoppers in 48 other states.
It worked. In September, the California State Assembly passed a bill restricting the sale of personal products containing microbeads. The legislation cleared the way for President Obama to sign a bipartisan bill three months later.
"It was a very positive thing that Obama signed the Microbead-Free Waters Act," Jeroen Dagevos, head of programs at the Amsterdam-based nonprofit Plastic Soup Foundation, told HuffPost by phone. "It's really helping, but it's not complete."
Now, Wilson has teamed up with Greenpeace in the United Kingdom to push for a more comprehensive ban.
"At Greenpeace our main issue with [Obama's ban] is that it covers only wash-off products, whereas we would like a ban here to cover any products that contain microplastics that go down the drain," Greg Norman, press officer for Greenpeace UK, wrote in an email to HuffPost. "So we and our partners are pushing for something more wide-ranging from the U.K. government."
The next step for the U.S., Wilson said, may be to push for a right-to-know bill that would force other companies manufacturing products with microbeads to disclose their ingredients.
The need for a complete ban seems increasingly urgent. The oceans will contain more plastic than fish by 2050, according to a January report from the world Economic Forum and the Ellen MacArthur Foundation, with analytical support from consultants at McKinsey. Microbeads wreak havoc on coral populations that eat the tiny particles, which then destroy the creatures' digestive systems.
"Taking action on microbeads was an important first win," David Andrews, a senior scientist at the nonprofit Environmental Working Group, told HuffPost by phone. "But it's even more important to make sure we are really addressing environmental plastic pollution."
"Everyone can visualize floating plastic bottles," Andrews added, "but it's harder to envision the damage these smaller pieces of plastic can cause."
Related