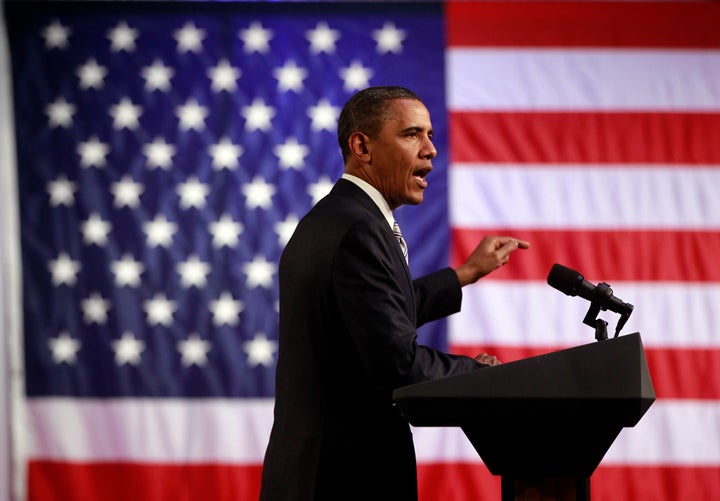 WASHINGTON -- President Barack Obama will announce plans Thursday to funnel billions of dollars in economic aid to Egypt and Tunisia as part of a broader effort to inject democracy into the Middle East and North Africa.
Obama will unveil a massive package of economic measures, including up to $1 billion in debt relief and another $1 billion in loan guarantees, during a speech on U.S.-Middle East policy set for Thursday morning at the State Department. Other pieces of the package include a new trade partnership with the region and a fund for stimulating regional private sector investments.
In a Wednesday preview of the speech, senior administration officials said the U.S. singled out Tunisia and Egypt for economic help because they are the best positioned countries to serve as role models for democratic reform in the area, which has been gripped by anti-government protests in recent months.
Since December, there have been revolutions in Tunisia and Egypt, a civil war in Libya and civil uprisings in Bahrain, Syria and Yemen. Major protests have also broken out in Algeria, Iran, Iraq, Jordan, Morocco and Oman.
"We do see [Tunisia's and Egypt's] success as a positive incentive for others in the region who are also working on a reform agenda," said one administration official.
The president's speech will focus largely on the need to tie economic modernization to democratic change. He will note that the nonviolent protests in the region have stemmed largely from large populations of frustrated young people who can't find work. Obama will also emphasize that the aid package will include strong safeguards to ensure that no money is siphoned off by corrupt officials and that "new governments there are taking this seriously," said the official.
None of the money requires new spending from Congress; the White House has been working behind the scenes with key appropriators to re-program existing funds for Egypt and other programs to fund the new initiatives. Lawmakers "have given their thoughts as well in helping to design some of these initiatives," said another senior administration official.
But that doesn't mean the president's plan won't meet resistance on Capitol Hill. House Foreign Affairs Chairwoman Ileana Ros-Lehtinen (R-Fla.) "does not believe that the U.S. should forgive Egypt's debt," her spokesman told The Huffington Post on Wednesday. And given the near-obsessive focus in Congress on the U.S. debt, expect other lawmakers to surface with similar objections to erasing Egypt's debt.
Nonetheless, officials on the conference call framed Obama's plan as a major milestone in U.S. foreign policy. They compared it to components of the successful post-World War II economic recovery program, the Marshall Plan, as well as to the U.S. aid lent to former Soviet states after the fall of the Berlin Wall.
Former National Security Advisor James Jones earlier this week called for a Marshall Plan for Egypt to help it transition to a free and vibrant economy after years of corruption and state control under former President Hosni Mubarak, who stepped down in February. The Marshall plan, named for then-Secretary of State George C. Marshall, had a two-fold purpose: to help rebuild a Europe devastated by war and to stave off the spread of communism.
While Obama's proposed economic package is far more modest in size and scope, it too is designed to give Egyptians reeling from high unemployment and economic stagnation a market alternative to Islamist extremism.
"It's the beginning of a long-term effort because obviously these transitions will play out over a number of years," said one official. "Of course, it's our hope there are additional transitions to democracy that follow in the years to come."
Obama's speech comes at a time when he gets low marks from both Muslims in the region and Jewish leaders who have criticized him for not being sufficiently sympathetic to Israel's point of view. The American Israel Public Affairs Committee warned its members Wednesday not to boo certain politicians attending its annual conclave in Washington on Sunday. The president is scheduled to speak at the group's opening session that morning.
Wendy Chamberlin, president of the Middle East Institute and the U.S. ambassador to Pakistan when the 9/11 attacks took place, said Wednesday that she worries Obama's speech "will not be greeted as good news throughout the Middle East" if it doesn't include a proposal to bring Israeli and Palestinian leaders back to the table for negotiations. The United States may also find that Israel "and maybe Samoa" will be its only allies to vote against unilateral recognition of a Palestinian State when the United Nations General Assembly is expected to take up the issue in September.
"We will be isolated," she said.
Brian Katilus, a senior fellow at the Center for American Progress, concurred that Obama needs to give another push for Middle East peace talks. "Inaction or just treading water on the Arab-Israeli conflict simply won't do," he said during a Wednesday conference call. "They need to multitask here and move forward on trying to deal with the complicated questions of restarting direct talks between Israelis and Palestinians."
Katilus also said Obama needs to clearly explain why the U.S. has responded differently to each of the uprisings in the Middle East. Specifically, he said, the president must outline why the U.S. slapped sanctions on Syria on Wednesday while letting the United Nations take the lead in the Libya conflict. Obama announced sanctions on Syrian President Bashar Assad and six senior Syrian officials for human rights abuses over their brutal crackdown on anti-government protests.
And even as the U.S tightened financial sanctions on Syria, it maintained only a rhetorical campaign in Yemen as White House counterterrorism advisor John Brennan put in a call to Yemeni President Ali Abdullah Saleh urging him to abide by a Gulf Cooperation Council-brokered deal that called for him to step down.
"People want more answers," Katulis said.