"The American people sent a message, one that they've sent for several elections now. They expect the people they elect to work as hard as they do," Obama said. "They expect us to focus on their ambitions, not ours. They want us to get the job done."
Obama outlined several goals he has for the immediate future, noting he's going to engage Congress on a new resolution to use military force against the Islamic State, a militant group formerly known as ISIS or ISIL. Obama also said he's submitted a request to Congress for funds to help implement a strategy to contain and end the Ebola outbreak, and that he wants to work with Congress to pass a budget for the rest of the fiscal year.
Obama said he spoke with House Speaker John Boehner (R-Ohio) and soon-to-be Senate Majority Leader Mitch McConnell (R-Ky.) earlier on Wednesday, congratulating them on their party's success on Tuesday.
"Obviously Republicans had a good night," Obama said.
Obama said he would work to make the next two years "as productive as possible," saying he's "eager" to find ways to work together with Republicans on issues Americans care about.
"Congress will pass some bills I cannot sign. I'm pretty sure I'll take some actions that some in Congress will not like," Obama said.
However, he added, "As president I have the unique responsibility to try to make this town work."
Republicans seized the Senate last night, picking up seats in Arkansas, Colorado, Iowa, Montana, North Carolina, South Dakota and West Virginia. For more news from the midterm elections, go here.
Before the polls closed on Election Day, Obama recognized the tough odds facing Democrats.
"This is probably the worst possible group of states for Democrats since Dwight Eisenhower," Obama told WNPR radio in Connecticut on Tuesday, according to CNN.
"There are a lot of states that are being contested where they just tend to tilt Republican," Obama said.
This is developing... Check back for more...
Before You Go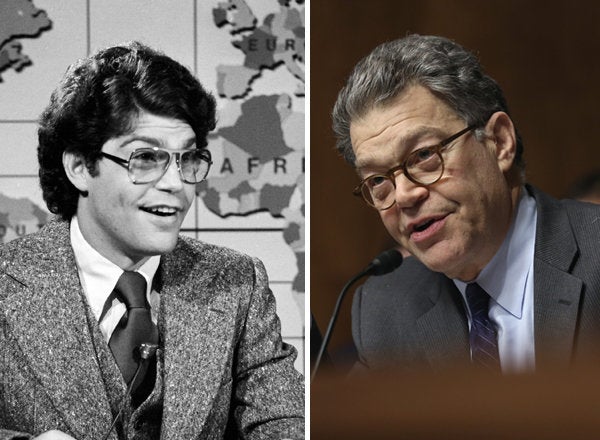 Politicians Then And Now
Popular in the Community