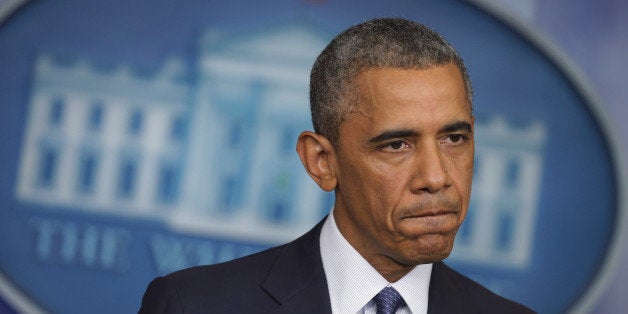 A new national poll gives Republicans the edge on the generic House vote. Most Americans support the authorization of air strikes in Iraq. And apparently it's not too soon to start talking about the 2020 election. This is HuffPollster for Tuesday, August 12, 2014.
MCCLATCHY-MARIST: BAD NUMBERS FOR OBAMA, DEMS - Anita Kumar: "President Barack Obama is dragging down his party and hurting the prospects of fellow Democrats as they head into midterm elections that will determine who controls Congress, according to a new McClatchy-Marist poll….By 42-32 percent, voters say their opinions of Obama make them more likely to vote this fall for a Republican than for a Democrat. And for the first time this election cycle, more people said they'd vote for a Republican than a Democrat for Congress, by 43 percent to 38 percent." [McClatchy]
Generic House question worse for Dems than in other recent polls - HuffPost Pollster's chart shows little consensus, even among non-partisan, live caller polls, on how Americans' congressional preferences have changed in recent month. While McClatchy/Marist finds a net 11-point swing toward the Republicans since April, NBC/WSJ shows just a 1-point shift toward the GOP since April. Other recent polls find movement in the opposite direction since spring: CBS has the Democrats up 3 points from May, Fox has the Democrats up 5 since April, and CNN has them up 5 points since May.
How much will Obama's low approval affect the midterms? - Aaron Blake: "But at least on its surface, the McClatchy/Marist College poll suggests the 2014 election isn't really about Obama. In fact, most registered voters -- and the vast majority of swing voters -- say he's not even a factor for them. The poll shows just 29 percent of Americans say Obama is a major factor in their vote, with another 17 percent saying he's a minor factor. A majority, meanwhile, says Obama has no effect whatsoever on whom they vote for (52 percent)...Now, Obama is surely a factor in the 2014 election. The history of midterms suggests an incumbent president has a very difficult time maintaining his party's congressional standing. In addition, just because people say it's not about Obama doesn't mean that's not really part of their calculus." [WashPost]
AMERICAN SUPPORT FOR AIR STRIKES IN IRAQ TICKS UP - HuffPollster: "Fifty-eight percent of Americans in the new poll supported Obama's authorization of air strikes against insurgents in Iraq, while 24 percent said they oppose the move. A similar percentage said they would approve of the use of drones. The air strikes brought a rare moment of bipartisan agreement, with 66 percent of Democrats and 65 percent of Republicans supporting the move. Independents expressed less positive opinions, with just half approving...Now that the decision to launch strikes has been made, though, Americans are considerably more supportive than they were in earlier polling that asked them simply to consider the possibility of such strikes. A June HuffPost/YouGov poll asked Americans to weigh possible interventions in Iraq, with just 44 percent in favor of air strikes and 33 percent opposed. Approval of Obama's handling of the situation in Iraq has also risen modestly. Two months ago, just 33 percent of Americans approved, with 45 percent disapproving; in the most recent poll, views were about evenly split, with 42 percent approving, and 40 percent disapproving. His approval on Iraq rose 7 points among Democrats, and 9 points among independents and Republicans." [HuffPost]
MITCH MCCONNELL HAS EDGE IN KENTUCKY SENATE RACE - HuffPollster: "Senate Minority Leader Mitch McConnell has the edge over Democratic rival Alison Lundergan Grimes in Kentucky's competitive Senate race, according to a poll released Tuesday by the Democratic firm Public Policy Polling. The [PPP] survey gives McConnell 44 percent to Grimes' 40 percent, with libertarian David Patterson taking 7 percent. In a head-to-head without Patterson, McConnell leads, 47 percent to 42 percent...HuffPost Pollster's model, which includes all publicly available polling, gives McConnell just over 47 percent to Grimes' 45 percent. The two latest nonpartisan polls on the race -- an automated/online SurveyUSA poll and an online CBS/New York Times/YouGov poll -- showed McConnell up 2 and 4 points, respectively. SurveyUSA's July results also showed McConnell's once-dismal approval rating improving, thanks largely to better numbers among his Republican base." [HuffPost]
HUFFPOLLSTER VIA EMAIL! - You can receive this daily update every weekday via email! Just click here, enter your email address, and and click "sign up." That's all there is to it (and you can unsubscribe anytime).
TUESDAY'S 'OUTLIERS' - Links to the best of news at the intersection of polling, politics and political data:
-Amanda Terkel and Samantha Lachman have your guide to Tuesday's primary in Connecticut, Wisconsin, and Minnesota. [HuffPost]
-Everyone still hates Congress. [Gallup]
-Philip Bump previews the 2020 election map. [WashPost]
-Derek Willis outlines research suggesting women may be more "election averse" than men. [NY Times]
-Pollster Jason Boxt checks in on the Scottish Referendum and his trip to the Festival of Politics. [HuffPost]
-Seth Masket reviews research on the role of identity politics in group caucuses [WashPost]
REAL LIFE. REAL NEWS. REAL VOICES.
Help us tell more of the stories that matter from voices that too often remain unheard.