WASHINGTON -- President Barack Obama on Sunday mocked the GOP for being behind the times, chiding the party and its presidential candidates for continuing to hold out against marriage equality, even though a majority of the country now supports it.
"The good news is they probably won't use marriage equality as a wedge issue like they did in 2004 because the country has come too far," he said in a speech at a Democratic National Committee fundraiser in New York. "In fact, America has left the leaders of the Republican Party behind."
Without naming them directly, Obama dug into a few of the party's presidential hopefuls for their steadfast opposition to same-sex marriage, inciting laughter from the audience.
"One of their leading candidates argued that going to prison turns you gay," he said, referring to neurosurgeon Ben Carson, who has recently surged in the polls. "Well, you think I'm -- I shouldn't go into this? No, I mean, I'm just stating the facts."
"Another candidate boasts that he introduced an amendment to end nationwide marriage equality -- which isn't even an accomplishment at all. A third says Americans should just disobey the Supreme Court's ruling entirely. I'm sure he loves the Constitution -- except for Article III. And maybe the Equal Protection Amendment. And the 14th Amendment, generally," Obama continued, referring to Sen. Ted Cruz (R-Texas) and former Arkansas Gov. Mike Huckabee (R), both of whom stood by Kim Davis, the Kentucky county clerk who refused to issue marriage licenses to LGBT couples.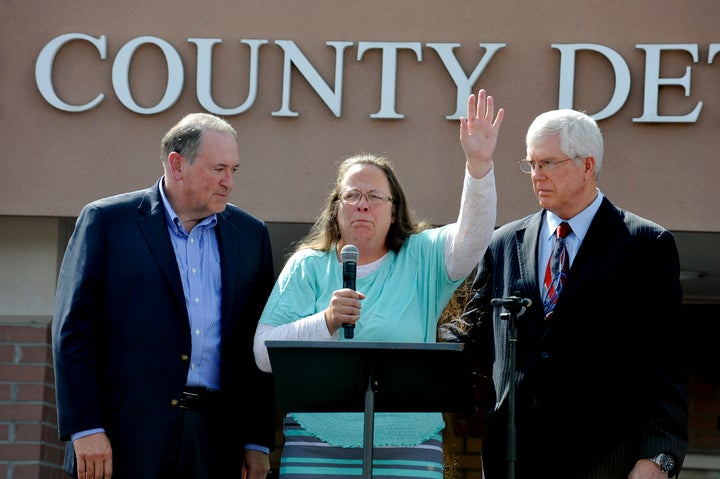 After listing off a few of his administration's signature accomplishments, Obama took another shot at "the busload of Republicans fighting each other for this job" for using him as a political punching bag.
"In their world, everything was terrific back in 2008 when we were in the midst of a spiral into the worst financial crisis and economic crisis since the Great Depression, when unemployment and uninsured rates were rising and when our economy was shedding jobs each month, and we were mired in two wars, hopelessly addicted to foreign oil, and bin Laden was still at large," Obama said.
"Those were the Golden Years, apparently. And then, I came in and messed it all up."
"You got to give these folks credit for chutzpah," he added. "And so since everything was doing so well back in 2007-2008, now if we can just repeal Obamacare, and gut Wall Street reform, and shut down our government over women's access to health care, and deny that the planet is getting warmer, they've got a plan to get us back on track."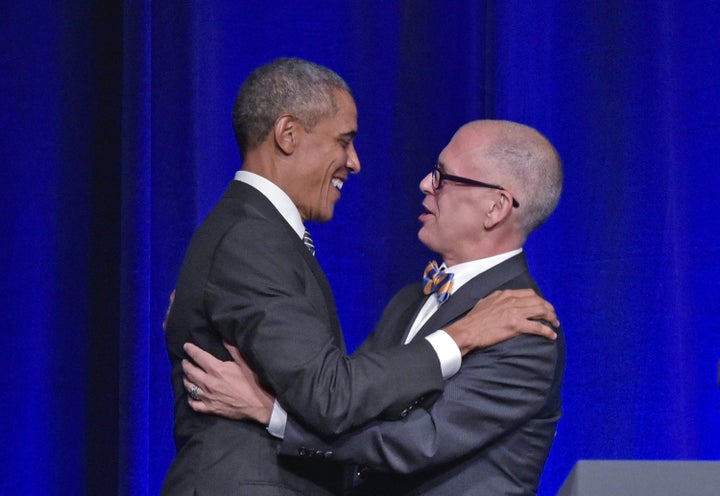 Returning to the main topic of the evening, Obama celebrated his policy achievements that benefited LGBT Americans, including his decision to overturn the military's ban on openly gay soldiers, his executive order banning workplace discrimination against LGBT individuals employed by the federal government and federal contractors, as well as this year's Supreme Court's ruling legalizing gay marriage nationwide. The lead plaintiff in the case, Jim Obergefell, introduced Obama at Sunday's fundraiser.
The president also heralded the country's evolving attitudes toward gay rights, noting it was a highly divisive political issue that not many Americans supported.
"Time after time, the cynics told us that we were foolish to keep believing, that we were naïve to hope, that change was too messy or not possible at all. And if you admit it, there were some in this room here who were skeptical that everything that needed to happen would happen. The cynics were wrong. Tonight, we live in an America where 'don't ask, don't tell' is something that 'don't exist,'" he said.
"We live in an America where a growing share of older generations recognize that love is love, and younger generations don't even know what all the fuss was about. And tonight, thanks to the unbending sense of justice passed down through generations of citizens who never gave up hope that we could bring this country closer to our founding ideals -- that all of us are created equal -- we now live in America where our marriages are equal as well."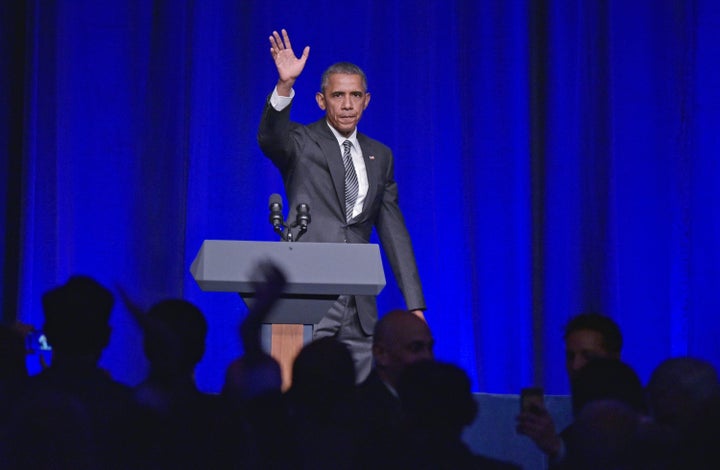 Obama acknowledged that there was more work to be done in advancing LGBT rights, telling the audience that "to secure the gains this country has made requires continued vigilance." He also reiterated his call for a ban on conversion therapy for LGBT youth.
Noting that it will take time for some Americans to embrace LGBT rights, Obama took yet another jab at Republicans by calling out those who cited religious freedom as a motive for obstructing LGBT rights.
"We affirm that we cherish our religious freedom and are profoundly respectful of religious traditions. But we also have to say clearly that our religious freedom doesn't grant us the freedom to deny our fellow Americans their constitutional rights," he said. "Even as we are respectful and accommodating genuine concerns and interests of religious institutions, we need to reject politicians who are supporting new forms of discrimination as a way to scare up votes. That's not how we move America forward."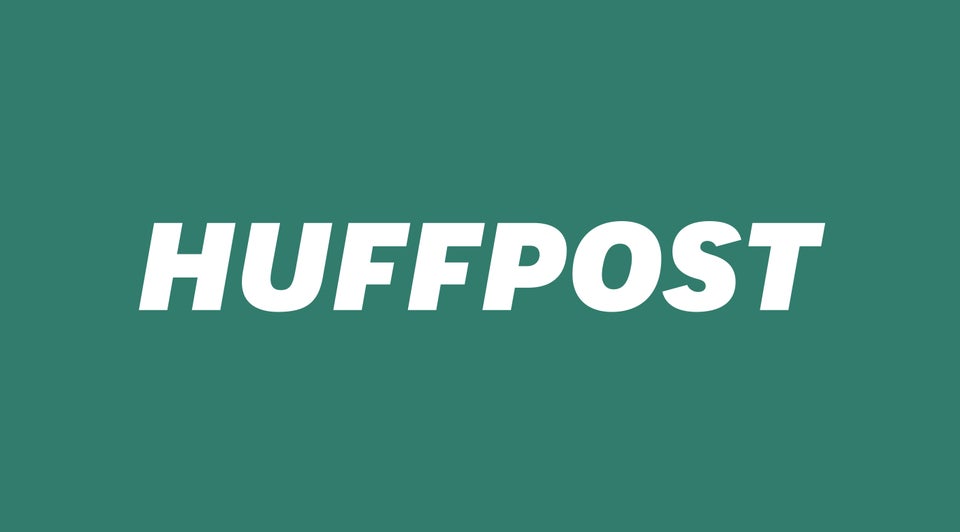 Politicians React To Gay Marriage Ruling
Popular in the Community