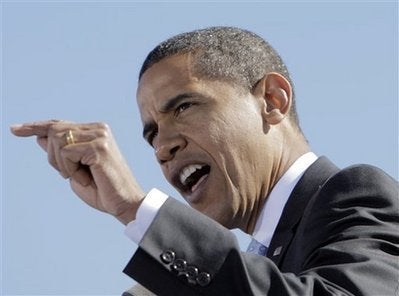 MoveOn.org is hoping to push Barack Obama over the hump in John McCain's home state with an ad that features a lifetime Republican and U.S. Air Force member endorsing the Illinois Democrat.
"I'm a Veteran, I served under President Ronald Reagan and under the first President Bush. I've been a Republican since before I could actually vote," says Staff Sergeant US Air Force John Weiler, adding: "We need somebody in the White House that is strong. We need somebody who's gonna represent the left and the right, the Democrat and the Republican, everybody. I'm a lifelong Republican and I'm voting for Barack Obama."
The spot, titled "Obamacan," will start airing on Arizona's broadcast and cable stations this Friday, according to the group.
At the same time, the Obama campaign emailed supporters in the Copper State on Thursday, organizing volunteers for a get-out-the-vote drive.
"The fact that John McCain's home state, a traditional red state, is now in play with 5 days left until the election speaks to the real power of Obama to reach across party lines and speak to all Americans," said Eli Pariser, MoveOn's Executive Director. "The entire country is ready for a change of direction, and this ad speaks directly to voters who are ready to become a part of that change."
The ad was the winning entry from more than 1,000 submissions to MoveOn's "Obama in 30 Seconds" ad contest earlier this year.