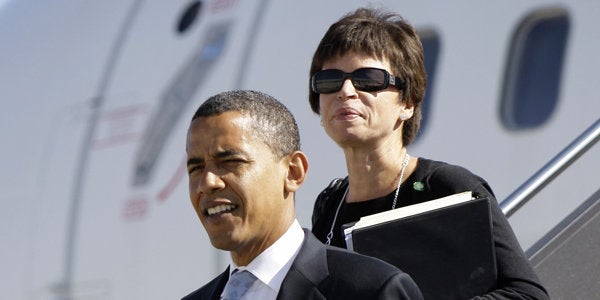 President-elect Barack Obama has formally named his friend Valerie Jarrett to be a senior adviser in the White House. Her official title will be "senior advisor and assistant to the President for Inter-government relations and Public Liaison in the Obama White House," according to the Chicago Sun-Times' Lynn Sweet.
Jarrett is a co-chair of Obama's transition team and was a top advisor to him during the presidential campaign.
From Lynn Sweet's report:
Jarrett, 51, a Hyde Park resident, is a veteran of Chicago's City Hall who went on to become the CEO of The Habitat Company, a major Chicago real estate firm as well as serving on a variety of civic and corporate boards.
[...]
Joining the campaign while still juggling her Habitat duties, Jarrett functioned as a friend--dining with Obama and other pals before a debate--as a top surrogate for the fund-raising drive--and as an advisor, often with Obama on the campaign plane.
Jarrett's White House role may be similar to the one played by Karen Hughes in President Bush's first term, the Washington Post speculates, "providing political advice while keeping him grounded."
Calling all HuffPost superfans!
Sign up for membership to become a founding member and help shape HuffPost's next chapter