With Adidas' recent announcement that the company will help schools transition away from Native American mascots, "schools now really don't have an excuse" for keeping them, President Barack Obama said Thursday at the 2015 White House Tribal Nations Conference.
Obama was answering a question during a session with four Native American youths. Teen Tatiana Ticknor asked him how schools can work to reduce stereotyping and racism against American Indian and Alaska Native students. In response, Obama talked about the negative impact offensive Native American mascots and imagery can have on students and praised sports apparel company Adidas for its offer Thursday to provide financial assistance to schools looking to replace Native American mascots. 
"In terms of eliminating racism or stereotypes, that's an obligation of the entire society, but it's especially important in the school," Obama said. "If you walk into a school on the first day and you're already feeling that stereotypes are embedded in the culture and the cheers and all that, that kid is feeling set apart and different."
"I want to give credit to Adidas," he continued. "They've really come up with a smart, creative approach, which is to say: If we can't get states to pass laws to prohibit these mascots, then how can we incentivize schools to think differently?"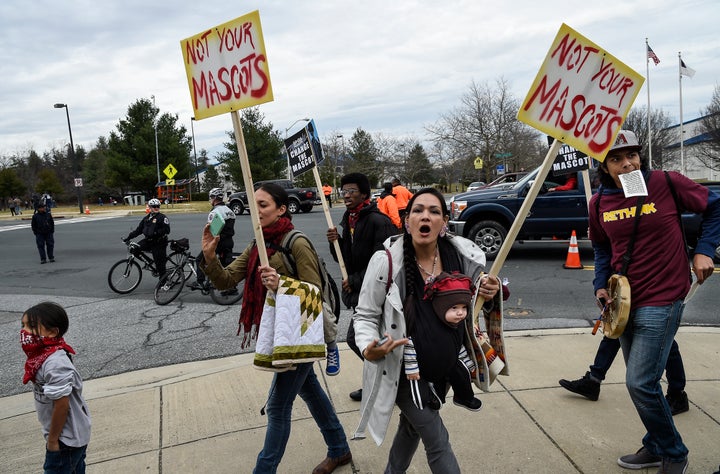 In a speech immediately before the panel, Obama also praised the resilience of Native American students -- who face high rates of suicide, poverty and dropping out of high school -- and emphasized his commitment to their success.
"When we talk about the future of Indian country, we're really talking about the future of young people. I don't need to tell you the enormous challenges they face," he said. "A lot of the young people I've met have gone through a lot more than anybody should have to go through during a lifetime at a very early age."
"But for all our young people have endured, the young people I've met have also given me incredible hope," he added. "I see so much promise in them, so much determination."
The conference came on the same day the Departments of Education and the Interior announced $2.5 million in grants to help tribes bolster and take more control of their education programs. Several months ago, the White House began distributing $5.3 million in separate Native Youth Community Project (NYCP) grants to tribal communities to help make youth more college-and-career ready.
Indeed, the White House has made engaging Native American youth a priority in recent years. Obama has "visited more Indian country than any sitting president," he noted at the conference. At the 2014 White House Tribal Nations Gathering, the administration announced the launch of an initiative called Generation Indigenous, which gives increased funding to tribal communities. The initiative also created the first ever Tribal Youth Gathering this summer, at which first lady Michelle Obama spoke. 
However, there is still much to be done. Last fall, federal officials traveled the country to hear more about the lives of Native youth during a listening tour organized by the White House Initiative on American Indian and Alaska Native Education and the Office for Civil Rights. Much of what they heard focused on academic challenges and bullying, a recently released report on that listening tour shows.
"Ninety-five percent of American Indian and Alaska Natives attend schools where they are less than 10 percent of the population," William Mendoza, the initiative's executive director, told The Huffington Post in October. "This population is not only underserved and underrepresented, but they're darn near invisible."
"We see all of the negative statistics, and the youth themselves know that when it comes to social ills, they are among the worst in terms of suicide, teen pregnancy, drug abuse, you name it," said UNITY Executive Director Mary Kim Titla. "They are keenly aware of that -- and despite that, the majority of them, I would say, are committed to overcoming all barriers and want to be among positive statistics."
Calling all HuffPost superfans!
Sign up for membership to become a founding member and help shape HuffPost's next chapter