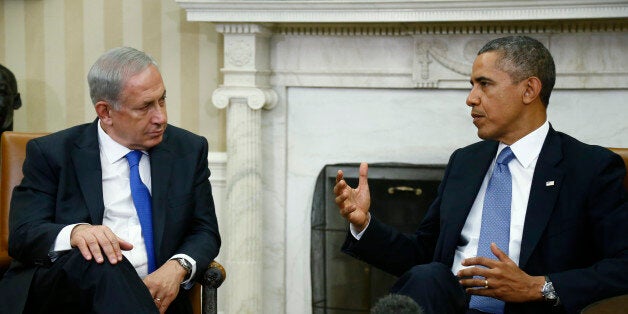 JERUSALEM -- Most people think that the recent fracas between Jerusalem and Washington is about Iran. They are wrong. Israel has what it takes to turn much of Iran into a radioactive desert. Should Israel and Iran engage in a nuclear exchange, says U.S-Middle East expert Anthony Cordesman, then it is the latter and not the former that will be wiped off the map.
Nor are the mullahs unaware of that fact.
That has not prevented Israel from talking endlessly about destroying Iran's nuclear infrastructure. Both Prime Minister Benjamin Netanyahu and his predecessors have been doing so for over a decade. Since success depends on surprise -- as when Israel bombed the Iraqi reactor in 1981 and the Syrian one in 2007 -- this talk itself proves Israel has no serious intention of carrying out its threats. Nor is Netanyahu the man to do it. For all his frequent posturing, deep at heart he does not have the guts.
The threat a nuclear Iran would pose to the United States is much smaller still. In fact, it would be comparable to the one mounted by North Korea since it detonated its first device nine years ago; meaning, close to zero. Arguably, indeed, possession of the bomb would compel Tehran to become more cautious than, by most measures, it already is. Thus the bomb would contribute to stability in the Middle East, not detract from it. That, at any rate, is what, to date, nuclear weapons have done in every single region where they have been introduced.
Amidst these questions, whether Netanyahu is or is not supported by his own security service is small potatoes. As former U.S Secretary of State Henry Kissinger once said, Israel does not really have a foreign policy. All it has are internal politics of which foreign policy is a third-rate extension. And it is mainly internal politics that have driven Netanyahu to emphasize the Iranian "threat."
This reminds us that, in Israel, it is elections time. The last two elections were held in 2009 and 2013. In neither of them was there any question that Likud would win and that Netanyahu would hold on to his dearly beloved job. This time things are different. One reason for this is that, economically speaking, things are not going as well as they should. The outcome is high prices -- for a couple of years now, not a day has passed without the media publishing comparisons with other countries, almost all of them unfavorable to Israel. In particular, the burden on young couples out to purchase their first flat has become all but intolerable.
The other reason is the creation of a new left-center party under the joint leadership of Yitzhak Herzog and former Foreign Minister Tziporah ("Tzippi") Livni. Both Herzog and Livni have the charisma of earthworms. Many people, though, see them as preferable to Netanyahu who is regarded as glib and untrustworthy.
Netanyahu needs a boost. There is not much he can do about prices. Nor do people really believe him when he says, as he has been doing for some years, that he will do something. But he can try to strike poses in foreign relations.
The murder a couple of weeks ago of four Jews in a French kosher supermarket seemed to present him with a great opportunity to do just that. What could be better than to be photographed while marching arm in arm with other heads of state, acting not merely as the prime minister of Israel but as the head of the Jewish people worldwide?
Unfortunately for him, it all went wrong. President Hollande of France, it turned out, did not really want him there. To be sure, he could hardly prohibit Netanyahu from coming. But he did take the opportunity to humiliate him by failing to receive him at the Elysée Palace. Worse still, when Netanyahu arrived, there was no proper reception party waiting to take him from the airport to town. Israel TV showed him standing in the rain, umbrella over his head, waiting for a bus and looking forlorn. Elections or not, that is not the kind of image a prime minister wants or needs.
USING THE JEWISH-AMERICAN CARD
So what to do? Unlike former Prime Ministers Menachem Begin, Yitzhak Rabin, and Ariel Sharon, Netanyahu cannot claim credit for any important foreign policy deed. Like his one-time mentor, former Prime Minister Yitzhak Shamir, all he can do is try and maintain the status quo. Partly that is because he does not have the necessary authority over his own party and the Israeli right in general. Partly because, as I said, he just doesn't have the guts. But maintaining the status quo does not yield many votes. At any rate, not enough to make him feel secure.
So use your Jewish-American card. Get yourself invited to the U.S. If not to the White House, with whose occupant Netanyahu has long been at loggerheads, then to address both Houses of Congress. The procedure is somewhat unusual, but that does not bother the prime minister too much. After all, the U.S, too, is facing elections in less than two years. Consequently the pressure it can bring to bear on Israel is limited. It is even possible that, by seeming to twist President Barack Obama's arm, Netanyahu will actually gain some points with parts of the electorate.
And so it goes. Obama and Secretary of State John Kerry will huff and puff. Presumably more so behind closed doors than in public. They may even threaten to "reconsider" America's relationship with Israel as, for example, Gerald Ford and Kissinger did in 1975 when Rabin did not agree to a proposed interim agreement with Egypt. However, real change will only happen, if it does, after the next American elections.
By that time Netanyahu will be safely back in the saddle, or so he hopes. And everything else be damned.
PHOTO GALLERY
Obama Visits The Middle East
Calling all HuffPost superfans!
Sign up for membership to become a founding member and help shape HuffPost's next chapter