The Obama administration is inviting states to apply to renew their waivers from the No Child Left Behind Act. And according to guidance issued Thursday, these renewed waivers could last all the way through the 2018-2019 school year -- locking down some of President Barack Obama's education policy changes well into the next presidency.
The new guidelines don't radically change the criteria for escaping the law's strictures. According to an Education Department document, states will have to ensure that schools cannot receive top ratings for accountability if they are not closing "significant achievement or graduation rate gaps" between different groups of students. Some states have struggled to keep promises they made under the 2011 waiver guidelines to improve low-performing schools. Under the new guidance, states must update their lists of such schools "to ensure that interventions are being implemented in the lowest-performing schools."
Beyond that, a state must continue to show "how it will continue to ensure all students graduate from high school ready for college and a career, through implementation of college- and career-ready standards and high-quality aligned assessments," the new guidelines say. Many states have satisfied this waiver requirement by adopting the Common Core State Standards, a controversial set of learning standards that formally define what students need to know in English language arts and math by the end of each academic year. Oklahoma dropped Common Core earlier this year, and lost its waiver in August as a result.
States must also continue to show that they are implementing teacher evaluations that take student performance into account, as they promised when they initially joined the program. Washington state lost its waiver for failing to comply with this directive.
States eligible for an expedited process will have until the end of January to apply for an extension of their waivers through 2018-2019 -- more than two years after the end of Obama's second term. "It's locking down [Secretary of Education] Arne Duncan's education policies well into the next administration," said Anne Hyslop, an analyst at Bellwether Education Partners who was verbally briefed on the new guidelines.
Duncan is expected to spell out the new guidelines in a speech to the Council of Chief State School Officers in California Thursday afternoon. The changes come three years after the Obama administration used executive action to tweak No Child Left Behind, a law signed by former President George W. Bush that expired in 2007.
While many laud NCLB for calling attention to schools with high average scores that nevertheless underserve their poor and minority students, even the act's original cheerleaders have come to describe its methods as blunt and punitive. Under NCLB, any schools with persistently low test scores face consequences -- even if those low scores are still significantly better than what the school used to have.
Since NCLB's passage, Congress has attempted to rewrite the act several times, but no version has been able to pass both the House and the Senate. In 2011, saying that Congress had not done its homework, Obama took executive action to waive the law's most punitive components. In exchange, he and Duncan said, states would have to follow the administration's preferred policies: tougher teacher and principal evaluations, common standards and school accountability systems that focus on growth and other measures.
Since then, most states have applied for inclusion in the updated program. Currently, 40 states, as well as Washington, D.C. and Puerto Rico, are operating under waivers. Washington state and Oklahoma have had their waivers revoked, and have had to return to life under No Child Left Behind.
The renewal guidance comes after a number of advocates and politicians, many of whom usually align with the administration on education issues, have chided the White House for its handling of the waivers. In February, Rep. George Miller (D-Calif.), who helped write NCLB and is retiring this year, joined other lawmakers in sending Duncan a letter voicing concerns that the waivers let the performance of poor and minority students slip through the cracks.
"I'm never going away," Miller told The Huffington Post at the time. "This runs way beyond my tenure in Congress." Miller recently reiterated his concerns in another letter to Duncan, Education Week reported on Tuesday.
The Education Trust, a Washington, D.C.-based think tank that often concurs with Miller on such issues, was briefed by the government on the new guidance in a phone conversation. EdTrust recently released a report that found that in three states, the new waiver-approved accountability systems often laud schools despite lackluster performances among poor or minority student groups. That's why Kati Haycock, the director of EdTrust, praised the new guidance but said it doesn't go far enough.
"A school could keep its A rating even if achievement among black students were going down," Haycock told The Huffington Post. "That didn't seem like an A school to me. The [new] guidance says to states, that's not OK."
But, she added, the guidance doesn't place similar protections around other ratings.
"They've said you can't give your top rating to schools that aren't doing well by different groups of kids," she said. "What we would have preferred is that all groups of kids matter to all schools. If you've been getting a B, but you're doing D work for students with disabilities, that ought to affect your rating too."
Speaking to HuffPost on Thursday, Miller echoed Haycock's thoughts about the new guidance.
"This is important, but only a first step in ensuring that the civil rights of our most underserved populations are upheld," said Miller. "The real test for equity will come in how states propose to address current shortfalls in their systems, what the Department of Education approves and how they both monitor the impact on students."
UPDATE, 4 p.m. -- Lily Eskelsen Garcia, president of the National Education Association, said she was disappointed by Thursday's news.
"We were looking for the Department of Education to provide common-sense flexibility from more of NCLB's mandates that do not support student learning," Garcia said in a statement. "We commend the Department's focus in the guidance on the need to strengthen districts' ability to help schools improve. However, if we're serious about every child's future, let's get serious about doing what works. We still need thoughtful and decisive action to reduce the sheer volume of standardized tests many students endure."
Randi Weingarten, president of the American Federation of Teachers union, agreed with Garcia's sentiments.
"The waiver guidance issued today says: No Child Left Behind failed, but you can get out of it if you have college- and career-ready standards, high-stakes testing on those standards, and teacher evaluations that rely heavily on testing," said Weingarten in an emailed statement. "It's basically Race to the Top without the funding ... This new waiver guidance fails to pass this test."

Before You Go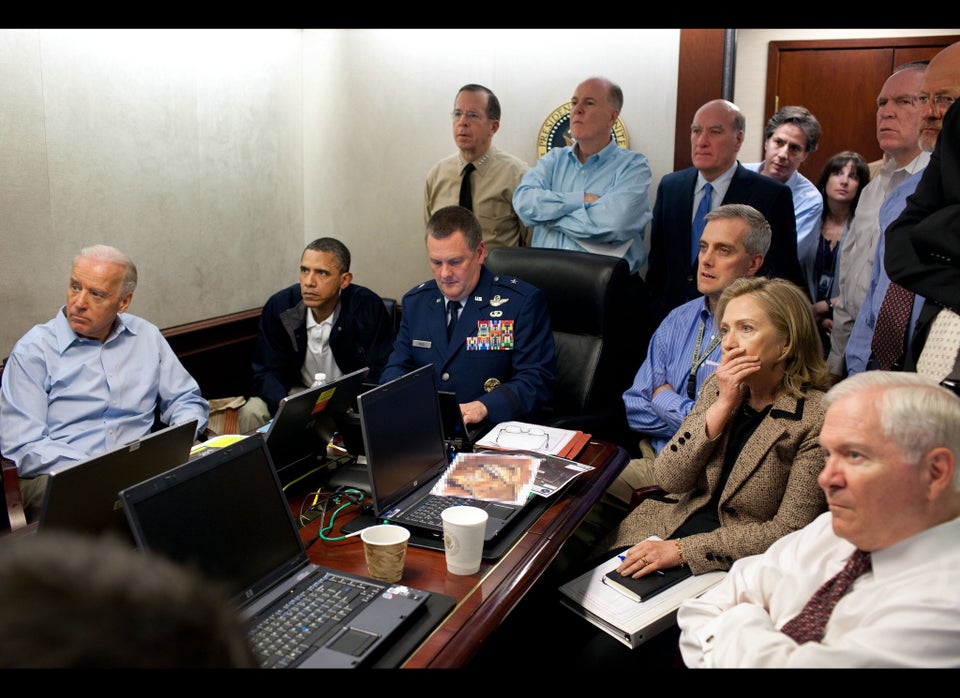 Most Iconic Photos Of Obama's First Term
Popular in the Community