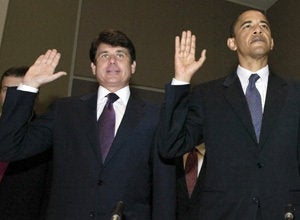 President-elect Barack Obama said Tuesday afternoon that he has had no dealings with Governor Blagojevich over his replacement in the Senate.
From the pool report of his meeting with Al Gore:
At 1:55 p.m., the pool was brought into a sparse corner office of the transition headquarters in Chicago's federal building. President-elect Obama sat in the middle, with Vice President-elect Joe Biden on his right and former Vice President Al Gore on his left. Three American flags were arrayed behind them. Mr. Obama then said, "Like the rest of the people of Illinois I am saddened and sobered by the news that came out of the U.S.. Attorneys office today. But as this is an ongoing investigation involving the governor, I don't think it would be appropriate for me to comment on the issue at this time."
[...]
After speaking a little more on climate change, the pool was about to be ushered out, when your pooler (I've been assured it was a classy act by certain members of the transition) shouted a question, asking if Mr. Obama was aware of what was happening with his Senate seat. Mr. Obama stopped the press and said he wanted to answer the question.

"I had no contact with the governor or his office, and so I was not aware of what was happening," Mr. Obama said. "And as I said it is a sad day for Illinois. Beyond that I don't it's appropriate to comment."
<0--4367084001--hh>0--4367084001--hh>
Calling all HuffPost superfans!
Sign up for membership to become a founding member and help shape HuffPost's next chapter