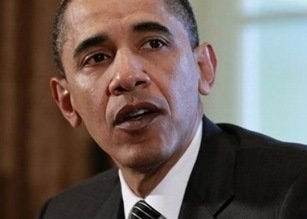 President Obama said on Wednesday that he has no "litmus test" when it comes to choosing a Supreme Court nominee -- a choice that he said is likely to come by or before the date of Justice Sonia Sotomayor's nomination, May 26.
Speaking to a pool of reporters moments before holding court with key Senate leaders, Obama emphasized that he wanted to get a replacement for Justice John Paul Stevens on the bench by the court's fall session. Discussing the meeting shortly after it concluded, Senate Majority Harry Reid (D-Nev.) said that Republican leaders -- Mitch McConnell (R-Ky.) and Jeff Sessions (R-Al.) specifically -- also understand the importance of getting the process finished by August.
As for the philosophies and background of that prospective replacement, Obama offered few hints of preference, stressing that he wanted "somebody who is going to be interpreting our Constitution in a way that takes into account individual rights, and that includes women's rights." The senators in attendance (which included Judiciary Chairman Patrick Leahy) brought the names of nominees they liked or supported -- though that information was not publicly discussed.
Obama's main point of emphasis on Wednesday, was to lay down a time frame for getting the confirmation and nomination processes in order. Pointing to past confirmation schedules, he offered:
"It's very important, particularly given the important cases that may be coming before the Supreme Court, that we get this process wrapped up so that a new justice can be seated and staffed and can work effectively with his or her colleagues in time for the fall session."

Popular in the Community