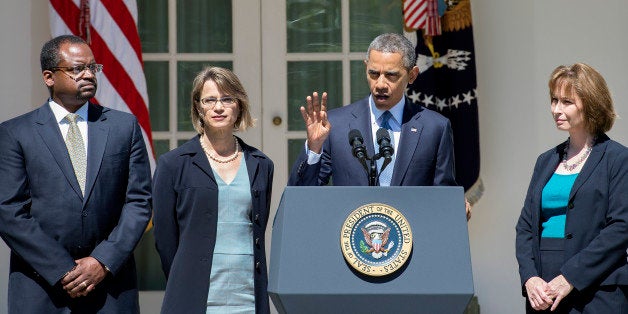 WASHINGTON -- Senate Majority Leader Harry Reid (D-Nev.) is plowing ahead with trying to confirm President Barack Obama's nominees to the second-most powerful court in the country, even after Republicans blocked one nominee and signaled they'll do it again for others.
Reid filed a motion on Thursday that sets up a confirmation vote on Tuesday for Nina Pillard, one of Obama's three nominees for the D.C. Circuit Court of Appeals. Republicans last week filibustered the first nominee, Patricia Millett, who Reid has vowed to bring up again. Obama's third nominee, Robert Wilkins, is expected to soon get a vote. Republicans are expected to block him, too.
None of the D.C. Circuit nominations is contentious -- even the Republicans blocking them say it's nothing personal. Instead, GOP senators argue the 11-member court isn't busy enough to warrant filling its three empty seats, a charge contested by Democrats. Republicans also routinely, and falsely, charge Obama with "court-packing".
"He's trying to pack the court in order to affect the outcomes. I know my friends across the aisle don't like that term, court-packing," Senate Republican Whip John Cornyn (R-Texas) said last week, moments after filibustering Millett's vote. "But I don't know what else you would call this."
Reid said Thursday that the GOP fight is all politics and that the real goal is to prevent Obama from filling slots on the D.C. Circuit bench, whose power is considered second only to the Supreme Court because it reviews federal agency rules and decisions -- including matters related to Obamacare.
"While Senate Republicans are blocking President Obama's nominees to this vital court, they were happy to confirm several judges to the D.C. Circuit when Presidents Reagan and Bush were in office," Reid said. "Pillard is incredibly qualified and dedicated. So it is truly a shame that Republicans would filibuster this nomination for unrelated political reasons."
The fight over D.C. Circuit nominees has gotten so tense that some top Democrats, including Senate Judiciary Committee Chairman Patrick Leahy (D-Vt.), have called for invoking the "nuclear option," or changing Senate rules to strip Republicans of their ability to filibuster certain nominees. Meanwhile, frustrations over the level of GOP obstruction of Obama's nominees are simmering at the White House.
"It's basically the equivalent of the government shutdown," a senior administration official told The Huffington Post. "We're not going to do our business. We're not going to govern, by blocking."
The official, who requested anonymity in order to speak freely, laughed at the GOP's court-packing argument, calling it "absurd." By definition, court-packing is when a president tries to increase the number of seats on a court for political gain. In the case of the D.C. Circuit, Obama is trying to fill empty seats, which he has a constitutional duty to do.
"There's no credibility to that argument whatsoever," said the official. "They just look like they're being completely disingenuous."
The official demurred when asked if it's time for Reid to go nuclear in order to get nominees moving, but said something has to change in the Senate. Democrats nearly moved forward with filibuster reform over the summer, but stopped at the 11th-hour after senators reached a bipartisan deal to let a select number of nominees get votes.
"There's got to be some way to get this thing somewhere back to regular order," said the official. "You would think coming off of a government shutdown, Republicans are looking at their poll numbers. Just engaging in additional obstructive conduct, it's surprises me."
Calling all HuffPost superfans!
Sign up for membership to become a founding member and help shape HuffPost's next chapter
BEFORE YOU GO
PHOTO GALLERY
Senate Seats Up For Grabs In 2014