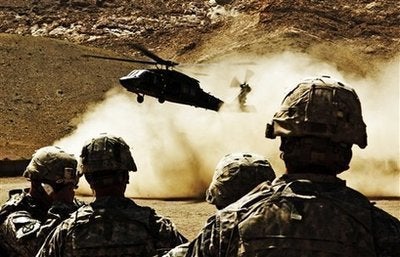 The president's National Security Adviser, Jim Jones, said on Sunday that the White House would be open to the idea of sending more combat troops to Afghanistan beyond the 17,000 already sent.
During an appearance on "Fox News Sunday," Obama's top intelligence adviser was asked about a reported request for more troops made by the U.S. Commander in Afghanistan, General Stanley McChrystal.
The administration, Jones said, was "not ruling it out at all," though he stressed that troop levels was just one component of a three-prong strategy.
"What is not lacking in Afghanistan is a comprehensive strategy," Jones said. "We have published the strategy that not only was agreed to here by everyone in the nation's capitol, but also by a lot of our international allies. Essentially, there are three prongs to the strategy. There's a security prong. That is about troops. But economic recovery and cohesion with the security strategy is important. And better governance and rule of law from Kabul all the way down to the local townships is extremely important. So my point in saying what I said was that it is not simply about troops."
It was something of a reversal for Jones, who had suggested in July that no more troops would be needed in Afghanistan should the strategy be carried out correctly. "If that is not done right," he said, "there are not enough troops in the world to succeed."
Earlier this week, it was reported that following an assessment of the situation in Afghanistan, Gen. McChrystal would recommend that U.S. forces expand in that country beyond their current numbers. In addition, Sens. Joseph Lieberman (I-Conn.) and Carl Levin (D-Mich.) both wrote President Obama in late July, urging him to double the size of U.S. forces in Afghanistan, in an effort to tamp down the Taliban insurgency.
While calls for further military engagement in Afghanistan grow, the willingness within the president's own political party to stomach a troop increase seems to have decreased remarkably. According to a CNN poll released this week, "Nearly two-thirds of Republicans support the war in Afghanistan. Three-quarters of Democrats oppose the war."