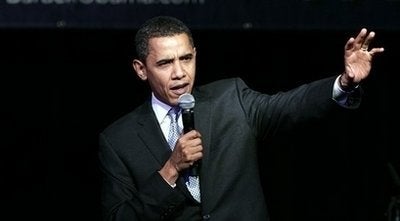 For the first time in the campaign, Sen. Barack Obama finds himself in the lead of at least one New Hampshire primary poll. According to the latest Rasmussen Report, the Illinois Democrat now enjoys the support of 31 percent of likely primary voters in the Granite State. That's three percentage points ahead of his main competitor Sen. Hillary Clinton, D-NY.
The two have been on seemingly divergent paths. Two weeks ago, Clinton held a seven-point lead in New Hampshire. A month ago, that lead was ten percentage points.
Rasmussen's polling is supported by the latest WMUR/CNN poll, which shows Clinton at 31 percent support in New Hampshire and Barack Obama at 30 percent; a statistical tie. She once had a 20-point lead in that survey.
Not all news is bad for the New Yorker, however. Clinton still leads all national polls. And in a separate Rasmussen report she has a three-point lead over Obama in Iowa -- 29 percent to 26 percent -- the first caucus state. These numbers came after Obama was joined on the campaign trail by Oprah Winfrey. Sen. John Edwards, D-NC, the other Democratic frontrunner, registers at 22 percent in the Iowa poll and 17 percent in New Hampshire.

Popular in the Community