WASHINGTON -- President Barack Obama continued to defend the National Security Agency's widespread surveillance programs behind closed doors to Senate Democrats on Wednesday, but on Thursday he faces a tougher audience.
A group of lawmakers who have expressed concerns about privacy and transparency in the wake of the NSA revelations will meet with the president at the White House Thursday. The meeting was confirmed by Sen. Mark Udall (D-Colo.), who told The Huffington Post he would be in attendance and "looked forward" to further discussion around possible changes to the scope of the NSA's data collection.
Other senators whose attendance was confirmed to HuffPost include Ron Wyden (D-Ore.) and Dick Durbin (D-Ill.), as well as two of the NSA's top defenders -- Senate Intelligence Committee chair Dianne Feinstein (D-Calif.) and ranking member Saxby Chambliss (R-Ga.). Politico reported that some members of the House of Representatives will also participate, including Intelligence Committee Chairman Mike Rogers (R-Mich.), ranking member Dutch Ruppersberger (D-Md.) and Judiciary Chairman Bob Goodlatte (R-Va.).
A White House official later confirmed the list of attendees, noting Patriot Act author Rep. Jim Sensenbrenner (R-Wis.) would also be present, and said the purpose of the meeting was "to discuss key programs under the Foreign Intelligence Surveillance Act." But lawmakers and aides were reluctant to offer specifics. One Senate Democratic aide said the meeting was initiated by the White House.
"The fact that this meeting is taking place shows the efforts of senators like Udall and Wyden are paying off," the aide said.
Udall and Wyden, who serve on the Senate Intelligence Committee, have long warned of the scale of the government's surveillance methods and introduced legislation last month that would limit the federal government's authority to collect data. The two Democrats took to the Senate floor Tuesday to escalate their criticism of the White House, accusing top intelligence officials of "misleading" the American public and possibly violating the law.
Other civil liberties advocates in Congress have offered a number of bills that not only curb the surveillance but also declassify the Foreign Intelligence Surveillance Court opinions used to justify the programs. Although the subject took a backseat in recent weeks to other pressing issues such as immigration reform and student loans, momentum picked back up last week around an amendment from Rep. Justin Amash (R-Mich.) that would stop the NSA's collection of phone records.
The measure was narrowly defeated in the House, but to many, the razor-thin margin of defeat was indicative of a growing desire among lawmakers to revisit the legislation under which the NSA programs are considered lawful: Patriot Act Section 215 and FISA Amendments Act Section 702.
Sensenbrenner even threatened to allow Section 215 to expire if the administration neglected to make changes to how it interprets the law and carries out surveillance.
But concerns about the scope of the NSA programs didn't even come up during Obama's meeting with House Democrats Wednesday, according to some lawmakers.
"It should have come up, but it didn't," said Rep. Jackie Speier (D-Calif.).
"Nobody asked the question," said Rep. Marcia Fudge (D-Ohio). "I was surprised."
Rep. Jerrold Nadler (D-N.Y.), who has called for oversight hearings on NSA programs, said questions about surveillance likely didn't get asked because only about eight or nine members got to ask questions in the meeting.
"There were about 30 people in line at the microphone," Nadler said. "Most of them didn't get to ask a question."
In the Senate, it was a different story. Durbin told reporters Democrats in the upper chamber had "a good discussion" with Obama about the NSA.
"There are still some unresolved issues in my mind," Durbin said. "I think if there's more transparency, and a real court proceeding, there'll be a lot more confidence that there's a check on the power of any executive."
He added that Obama seemed open to his suggestion that FISA court proceedings be more "adversarial," an idea backed by officials from the NSA, the Department of Justice and the Office of the Director of National Intelligence.
But according to Sen. Ben Cardin (D-Md.), the president was firm in his defense of the programs in their current form.
"He was very strong about the fact of keeping America safe and doing it in a way that respects the privacy of Americans," Cardin told reporters in response to a question from HuffPost. "He felt there's always ways to improve, but that the knowledge factor of what is being done currently, if most Americans really focused on it, they would want us to do what they're doing."
Maine Sen. Angus King, an independent who caucuses with Democrats and serves on the Intelligence Committee, said Obama reiterated his call for a "balance" between privacy and national security, but also invoked the Boston Marathon bombings as an example of where data collected by the NSA helped "identify whether there was a great plot."
Asked by HuffPost if he felt the president would yield to some of the concerns expressed by lawmakers, King flatly replied, "He said he will listen."
Jen Bendery and Mike McAuliff contributed reporting.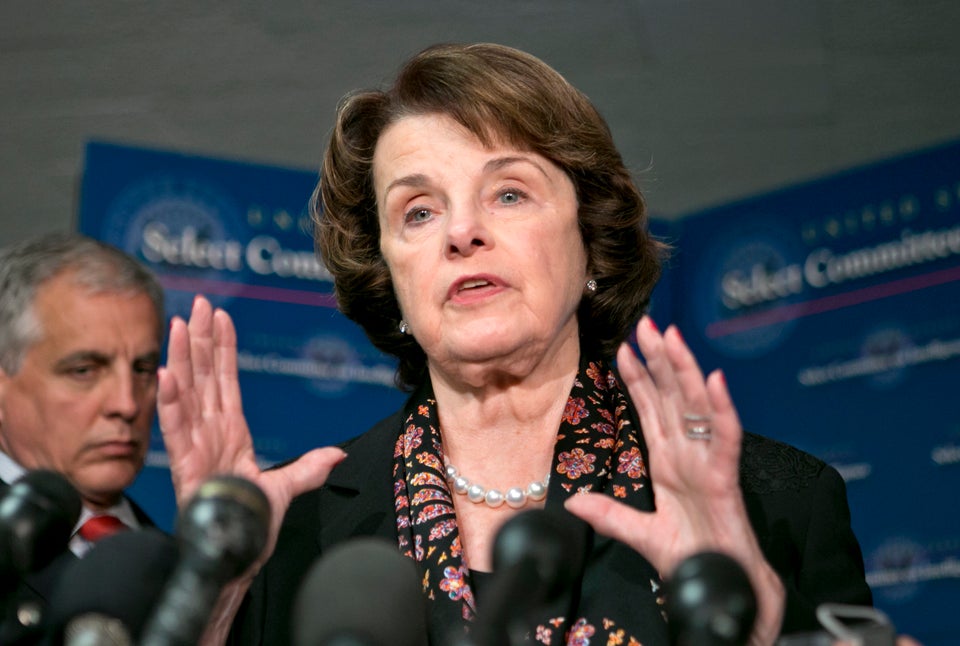 Politicians React To NSA Collecting Phone Records
Popular in the Community