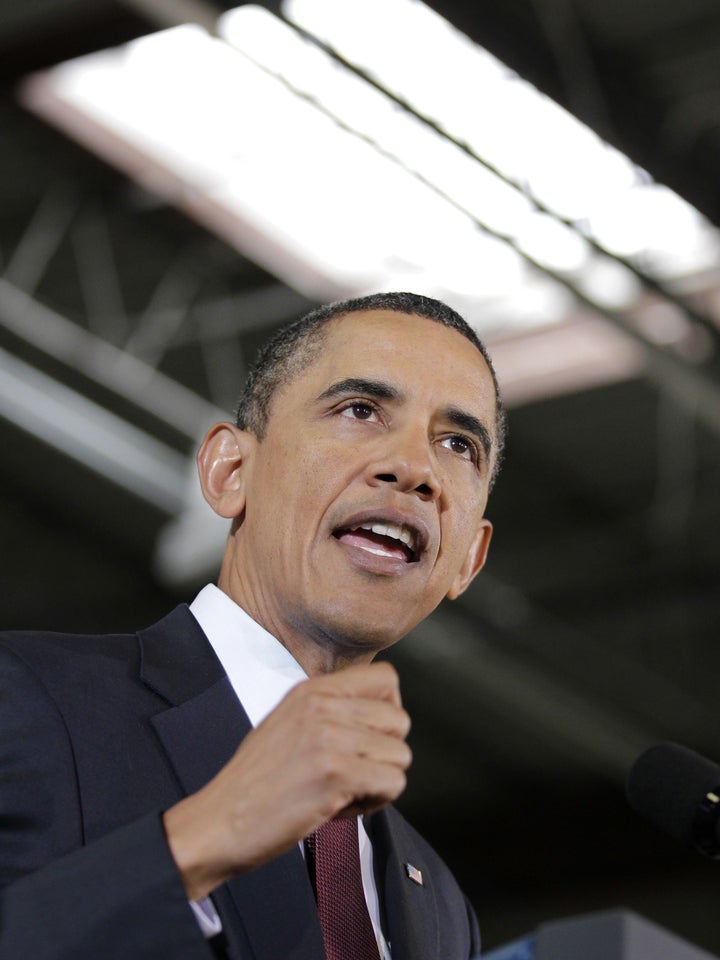 President Obama on Friday afternoon signed a major military spending bill, even as he bitterly objected to provisions within it intended to limit his ability to close the U.S. prison at Guantanamo Bay.
In a signing statement, Obama said Congress's ban on bringing Guantanamo detainees to the mainland in order to face domestic trials "represents a dangerous and unprecedented challenge to critical executive branch authority to determine when and where to prosecute Guantanamo detainees, based on the facts and the circumstances of each case and our national security interests."
And he said the move "undermines our Nation's counterterrorism efforts and has the potential to harm our national security."
He also objected to a provision that limits his use of defense money to transfer detainees to foreign countries, saying it "interfere[s] with the authority of the executive branch to make important and consequential foreign policy and national security determinations regarding whether and under what circumstances such transfers should occur in the context of an ongoing armed conflict."
He said those new requirements "would hinder the conduct of delicate negotiations with foreign countries and therefore the effort to conclude detainee transfers in accord with our national security."
But he stopped short of saying he does not consider himself bound by the new rules, saying instead that his administration "will work with the Congress to seek repeal of these restrictions, will seek to mitigate their effects, and will oppose any attempt to extend or expand them in the future."
In that way, Obama did not follow the precedent set by former President George W. Bush, who, when faced with provisions his lawyers felt intruded on his executive prerogatives, asserted his right to unilaterally ignore them. The Bush signing statements, generally the work of the vice president's office, often cited only his constitutional authority to "supervise the unitary executive."
Obama's language was considerably more specific about his objections, considerably less unilateral, and appeared to be more in line with the way previous presidents had used these statements.
Some of the same people and groups that strongly condemned Bush for executive overreach lauded Obama for his statement, and identified Congress as the party that had overreached this time.
"President Obama is correct that Congress should not be attempting to bar the administration from using government funds to transfer Guantánamo detainees to U.S. soil for prosecution or to transfer them to foreign countries for repatriation or release," American Civil Liberties Union Executive Director Anthony Romero said in a statement.
In fact, Romero urged Obama to go further and circumvent the ban by using non-defense dollars to transfer the detainees.
The bipartisan Constitution Project released a statement from legal lion Abner Mikva and former FBI director and jurist William Sessions, urging Congress to reverse the language.
"This legislation not only removes one of the most reliable and effective tools we have in the fight against terrorism -- the use of federal criminal courts to try terrorism cases -- it also represents a clear intrusion on the authority of the executive branch to decide where prosecutions should be brought," Mikva and Sessions said.
"If there ever were a case in which Congress has usurped the power of the president to 'take care that the laws shall be faithfully executed,' this is it. Nevertheless, Mr. Obama was right in not asserting executive power to ignore Congressional statutes, and thereby reinforce the terrible precedents of the Bush era."
Ackerman wants to set up an institutional solution to such conflicts in the future. "While we should praise Obama for his self-restraint in the face of Congressional provocation," he explained, "we should recall Madison's warning that 'enlightened statesmen will not always be at the helm.'"
So why did Obama sign the bill, rather than use his authority to veto it? "Despite my strong objection to these provisions, which my Administration has consistently opposed, I have signed this Act because of the importance of authorizing appropriations for, among other things, our military activities in 2011," he wrote.
Popular in the Community