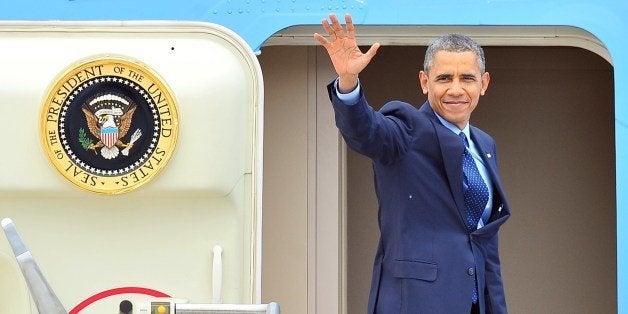 NEW YORK -- During a six-hour flight last week from Seoul, South Korea to Kuala Lumpur, Malaysia, President Obama headed to the back of Air Force One and spoke to reporters for roughly half an hour about foreign policy issues, such as the crisis in Ukraine and war in Syria.
The April 26 conversation was off the record. But a source familiar with the meeting, who is not authorized to discuss it publicly, said Obama also expressed concerns with some recent foreign policy coverage, specifically a couple New York Times articles published that morning.
In the lead NYT story that day, reporters Mark Landler and Jodi Rudoren wrote of Obama's "setbacks" when it came to the Middle East peace process and achieving a trade deal with Japan. David Sanger, in a news analysis piece, wrote how U.S intelligence misunderstood, and therefore underestimated, North Korean leader Kim Jong Un.
Obama has long held off-the-record meetings with columnists and editorial writers as a way to speak freely, and expansively, on issues. Obama will also sometimes speak off the record to reporters traveling with him on international trips, but typically just before arriving home.
National Journal columnist Ron Fournier argued Friday that Washington reporters can hold the White House more accountable, and in the piece, mentioned how "an embattled Obama whined to reporters about their coverage" during a recent trip. Fournier also urged reporters to push for these discussions to be on the record, writing that "whatever [Obama] said wasn't shared with the American public."
While most details of the discussion remain private, Obama did publicly -- and forcefully -- respond to foreign policy criticism two days later in Manila.
During an April 28 joint press conference, Fox News correspondent Ed Henry reminded Obama that "there have been a lot of unflattering portraits of your foreign policy right now" and offered him a chance to answer his critics and lay out his foreign policy vision.
Obama said he didn't "have time to lay out my entire foreign policy doctrine," and noted that there have been "complimentary pieces," too. Some foreign policy critics, Obama said, "would go headlong into a bunch of military adventures that the American people had no interest in participating in and would not advance our core security interests."
Whatever issues Obama had with recent Times coverage, he returned on April 29 to the back for Air Force One about twenty minutes before landing at Andrew Air Force Base, according to a pool report. Obama brought a cupcake, with candle, to New York Times photographer Stephen Crowley, who was celebrating his birthday.

Popular in the Community