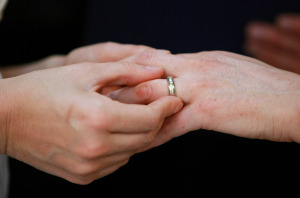 Howard Dean protested on The Rachel Maddow Show that he doubts Obama himself was aware of the recently filed brief in defense of the Defense of Marriage Act. But weeks ago, many new outlets, including my column on this site, covered the fact that the President has the legal right to refuse to defend clearly unconstitutional laws.
I have no doubt that President Obama was well aware of the brief filed in defense of DOMA. He also has indicated that his office intends to defend DOMA in subsequent legal challenges.
Despite this outrageous decision, in the great game of politics, Obama is attempting to silence the gay outcry by announcing the extension of benefits to same-sex partners of federal employees.
Dean went so far to suggest that repealing Don't Ask Don't Tell would appease the LGBT community.
Well, I hate to be the one to explain a rights struggle to the first Black President, but the equality movement is not a grab bag of rights. You don't get to reach in and see which prize you've won. Each of the rights discussed above - the right to benefits for your partner, the right to serve openly in the military and the right to access the same tax breaks and immigration privileges given to heterosexual couples - should be granted. Immediately. Granting one does not absolve trespass over the other rights.
Obama has made it clear that he will do only the minimum necessary to avoid a gay revolution. Gay rights are consistently moved to the bottom of the political barrel. He thinks extending benefits to a few federal employees is sufficient.
It's our job to let him know that is not enough.
Now is the time to pull the funding you have given to the DNC (like some of the most high profile gay leaders in this country). Now is the time to send a letter explaining why you won't be directing any future donations to the Obama administration no matter how many nice emails they send you. Now is the time to blog, argue and get angry.
If it takes national outrage to explain to Obama that rights aren't optional consolation prizes to be granted when his administration does something wrong, then we must deliver national outrage.
The signing of the presidential memo granting benefits to same-sex partners of federal employees will be at 5:45 pm today. The President is expected to make a few remarks.

Calling all HuffPost superfans!
Sign up for membership to become a founding member and help shape HuffPost's next chapter