President Barack Obama's budget proposal unveiled Tuesday seeks a 29 percent funding boost for the U.S. Department of Education's Office for Civil Rights, the agency that has received increased attention as the administration puts more scrutiny on campus rape cases.
The number of colleges and universities, as well as K-12 schools and school districts, under federal investigation for alleged violations of the gender equity law Title IX in responding to sexual assault reports has climbed significantly in the past two years. OCR, the part of the Education Department that heads these cases, has not received a significant increase in funding during Obama's tenure despite its significantly growing workload, resulting in some investigations dragging out for years. Even when the investigations close, monitoring has proved time-consuming, the agency said.
Obama's budget request for fiscal year 2017 seeks an increase in appropriations for the OCR from $107 million to $138 million.
The office now has 200 investigations open at 162 post-secondary institutions, the Education Department confirmed Tuesday. At the K-12 level, there are 81 sexual violence cases under investigation at 73 schools and school districts.
OCR says it received a nearly 90 percent increase in the number of complaints overall between fiscal years 2005 and 2015.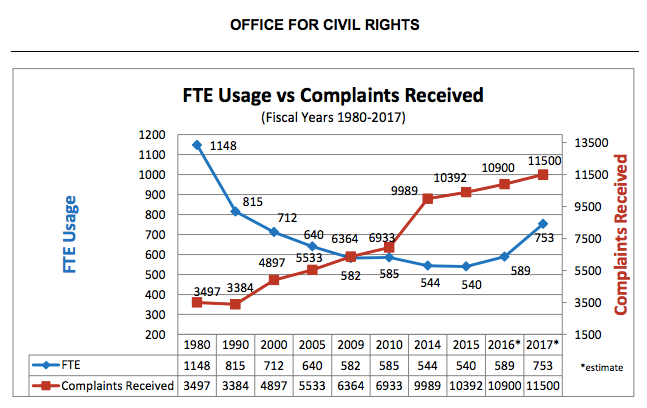 While addressing sexual violence has been one of the department's most high-profile tasks, the agency has said the predominate number of Title IX complaints are related to inequity in athletics. The agency also foresees a growing workload to address racial discrimination in school discipline, as well as working to address students with disabilities and bullying and harassment. OCR published guidance on all of these issues in recent years and believes schools will continue to request technical assistance on them.
Last year's proposal from the Obama administration sought a 31 percent increase for OCR's funding to $131 million. OCR got an increase in funding from about $100 million to $107 million in the congressional spending agreement passed in December.
The most recent increase primarily would be used to pay for 164 additional full-time employees -- bringing OCR to a total of 753 -- additional records management, IT security and staff travel costs, according to OCR's budget justification submission. The majority of staff, about 90 percent, would be located in regional offices rather than Washington, D.C. Part of the increase request would also pay for the department to effect its share of a governmentwide pay raise.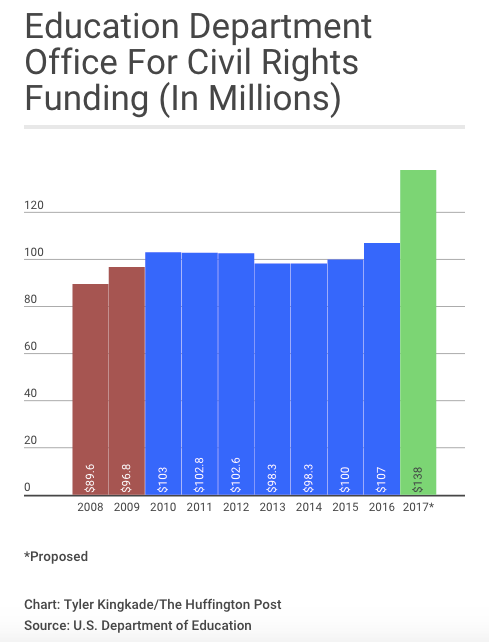 "The FY 2017 increase in [full-time employees] is a critical first step to provide OCR the capacity to address current workload," the department said in a budget justification document. "In fact, current data projections and enforcement trends indicate that even more staff may be needed to effectively address anticipated future workload."
The majority of complaints in the past few years have closed within the department's 180-day goal, it said, but the share of pending cases surpassing that six-month marker grew from 19 percent in 2012 to 34 percent in 2015. Part of this delay, the department said, is also because the sexual violence cases are becoming more complex.
The list of schools under federal investigations for handling of sexual assault cases:
Popular in the Community