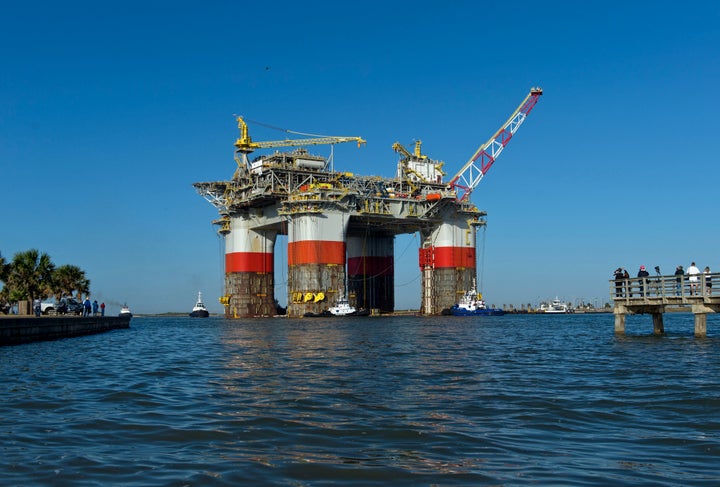 Likewise, neighboring Canada will halt oil and gas exploration in its own Arctic waters, according to a joint statement from Obama and Canadian Prime Minister Justin Trudeau.
A White House official said in a call with reporters Tuesday afternoon that the president's action recognizes the unique ecological value in these areas. The withdrawal includes 115 million acres in the Arctic and 3.8 million acres in the north and mid-Atlantic Ocean, according to the Interior Department.
Interior Secretary Sally Jewell said in a statement that the president had taken a "bold action" that "will help build the resilience of these vital ecosystems, provide refuges for at-risk species, sustain commercial fisheries and subsistence traditions, and create natural laboratories for scientists to monitor and explore the impacts of climate change."

"As Donald Trump stacks his cabinet with Big Oil cronies and polluters, President Obama has acted to protect our oceans, our air and our climate for our coastal communities and future generations of Americans," Steyer said in a statement. 
Of course, it is likely that Trump, who has called climate change "bullshit" and a "hoax," will attempt to rescind such a ban. But as the White House official told reporters, there is no provision in the law providing for such a reversal.
"No president has every acted to reverse an indefinite withdrawal," the official said. "And we believe there is a strong legal basis that these withdrawals ... will go forward and will stand the test of time."
Last month, the Interior Department moved to institute a temporary ban on drilling in the Arctic's Beaufort and Chukchi seas between 2017 and 2022, thereby limiting offshore drilling to the Gulf of Mexico and Alaska's Cook Inlet. Obama's permanent withdrawal encompasses the entire U.S. portion of the Chukchi Sea and significant portions of the Beaufort Sea. It also covers 31 canyons in the Atlantic, stretching from New England to the Chesapeake Bay.
As it did following last month's Interior announcement, the American Petroleum Institute blasted Obama's decision, saying it "ignores congressional intent, our national security, and vital, good-paying job opportunities."
"Fortunately, there is no such thing as a permanent ban, and we look forward to working with the new administration on fulfilling the will of American voters on energy production," Erik Milito, the industry trade group's director of upstream and industry operations, said in a statement.
The White House sees things quite differently. And by acting alongside Canada, the White House official said, the U.S. has reinforced the partnership between the two countries.
"The United States is not acting alone today," the official said during the press call. "One of the principal arguments that people had made against the U.S. protecting its Arctic waters was perhaps all of that [oil and gas] activity would move into Canadian waters. And by acting jointly with Canada, I think we've sent a powerful signal."
The Interior Department noted in its release that the new ban does not affect existing oil and gas leases, only future ones, and does not encompass a 2.8-million-acre nearshore area of the Beaufort Sea that is potentially rich in oil and gas.
The collective actions taken by the U.S. and Canada, the White House said in a statement, safeguard a "sensitive and unique ecosystem that is unlike any other region on earth."
"They reflect the scientific assessment that, even with the high safety standards that both our countries have put in place, the risks of an oil spill in this region are significant and our ability to clean up from a spill in the region's harsh conditions is limited," it said. 
The story has been updated with comments from NextGen Climate President Tom Steyer, the American Petroleum Institute and the Interior Department.
Calling all HuffPost superfans!
Sign up for membership to become a founding member and help shape HuffPost's next chapter
BEFORE YOU GO
PHOTO GALLERY
Recent Oil Spills