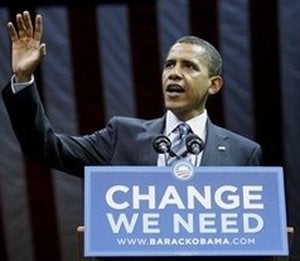 Speaking at a rally in Charlotte Sunday, Obama addressed the issue of how the government should respond to the financial crisis. He began by stressing that Washington must recognize "that economic recovery requires that we act, not just to address the crisis on Wall Street, but also the crisis on Main Street and around kitchen tables across America." Obama also criticized the Bush Administration's lack of a plan to combat the problem:
As of now, the Bush Administration has only offered a concept with a staggering price tag, not a plan. Even if the U.S. Treasury recovers some or most of its investment over time, this initial outlay of up to $700 billion is sobering. And in return for their support, the American people must be assured that the deal reflects the basic principles of transparency, fairness, and reform.
He then made a number of key points concerning how the government should tackle the financial crisis.
First, there must be no blank check when American taxpayers are on the hook for this much money.

Second, taxpayers shouldn't be spending a dime to reward CEOs on Wall Street.

Third, taxpayers should be protected and should be able to recoup this investment.

Fourth, this plan has to help homeowners stay in their homes.

Fifth, this is a global crisis, and the United States must insist that other nations join us in helping secure the financial markets.

Sixth, we need to start putting in place the rules of the road I've been calling for for years to prevent this from ever happening again.

And finally, this plan can't just be a plan for Wall Street, it has to be a plan for Main Street.
Watch video of Obama's remarks.
Popular in the Community