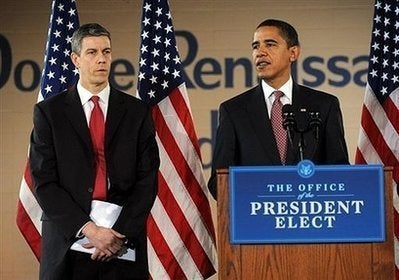 Barack Obama held a news conference Tuesday to announce the nomination of Arne Duncan as his Education Secretary. But the proceedings quickly took a dire tone when the topic shifted to the economy.
Asked about the Federal Reserve's expected move to lower interest rates -- another effort to move the economy out of it malaise -- the President-elect sounded a little concerned, saying he may have his hands tied once he takes office.
"Let me make an observation," said Obama, "that we are running out of the traditional ammunition that is used in a recession, and that is lowering the interest rates ... it is critical that the other branches of government step up, and that's why the economic recovery plan is so absolutely critical, and my economic team, which I will meet with today, is helping to shape what is going to be a bold agenda to create 2.5 million new jobs."
The economic situation is shaping up to be increasingly crippling for the Obama team, even before they take office. The President-elect and his staff are focused on pinpointing "shovel ready projects" that will provide an immediate boost in terms of revenues and jobs. But economists are skeptical as to whether spending money on infrastructure and refitting schools will be enough.
Moreover, it is clear -- at least from his public statements -- that Obama wants to tackle long-term issues in addition to the short-term concerns. Speaking later at the press conference, Obama talked not only about job creation but also changing "our culture so we are once again valuing intellectual achievement," removing structural difficulties "that have built up over many decades," and pooling resources in order to make schools better.
Certainly, these are broad agenda-items. It is when the rubber hits the road, starting with the economic stimulus package that will hit Obama's desk within his first days in office, that we will get the sense of how Obama handles the specifics.

Calling all HuffPost superfans!
Sign up for membership to become a founding member and help shape HuffPost's next chapter