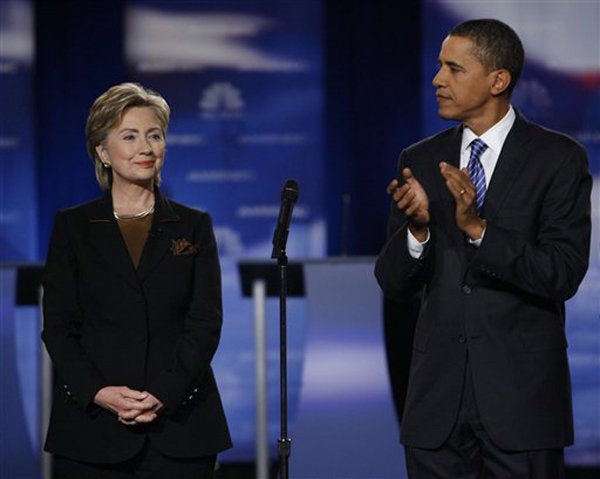 From Lynn Sweet's blog at the Chicago Sun-Times:
WASHINGTON--White House hopeful Sen. Hillary Rodham Clinton (D-N.Y.) is mounting a "girlfriend" offensive in accusing her all-male lineup of rivals of piling on as she tries to recover her footing from a poor performance in Tuesday's debate in Philadelphia. Chief rival Sen. Barack Obama (D-Ill.) on Friday was not buying the gender defense and said he did not wave a race card when he was roughed up in a debate.
Obama said in an interview on NBC's "Today Show" "Well, look, I am assuming and I hope that Senator Clinton wants to be treated like everybody else. And I think that that's why she's running for president."
MSNBC LINK http://www.msnbc.msn.com/id/21586430/
Clinton is working it both ways--acting tough and then complaining about being picked on. Obama alluded to race--Obama is the only African-American running when he said he just toughed out darts thrown at him.
"You know, when we had a debate back in Iowa a while back, we spent, I think, the first 15 minutes of the debate hitting me on various foreign policy issues. And I didn't come out and say, "Look, I'm being hit on because I look different from the rest of the folks on the stage.
Read entire story from Lynn Sweet's blog at the Chicago Sun-Times.
Watch video from NBC of Obama commenting on Senator Clinton's 'gender card' play:
Calling all HuffPost superfans!
Sign up for membership to become a founding member and help shape HuffPost's next chapter