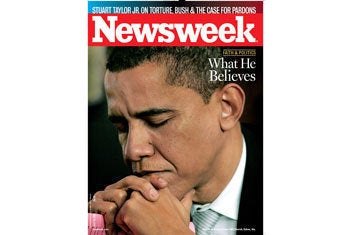 In 1981 Barack Obama was 20 years old, a Columbia University student in search of the meaning of life. He was torn a million different ways: between youth and maturity, black and white, coasts and continents, wonder and tragedy. He enrolled at Columbia in part to get far away from his past; he'd gone to high school in Hawaii and had just spent two years "enjoying myself," as he puts it, at Occidental College in Los Angeles. In New York City, "I lived an ascetic existence," Obama told NEWSWEEK in an interview on his campaign plane last week. "I did a lot of spiritual exploration. I withdrew from the world in a fairly deliberate way." He fasted. Often, he'd go days without speaking to another person.
For company, he had books. There was Saint Augustine, the fourth-century North African bishop who wrote the West's first spiritual memoir and built the theological foundations of the Christian Church. There was Friedrich Nietzsche, the 19th-century German philosopher and father of existentialism. There was Graham Greene, the Roman Catholic Englishman whose short novels are full of compromise, ambivalence and pain. Obama meditated on these men and argued with them in his mind.
Calling all HuffPost superfans!
Sign up for membership to become a founding member and help shape HuffPost's next chapter