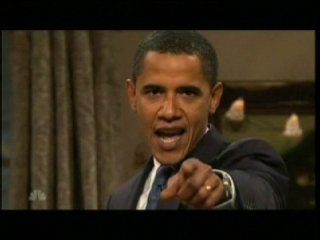 Will Barack Obama be back on Saturday Night Live? Perhaps — so far the show isn't saying, but that's the word on the street — and I've heard it too — saying that, yes, an Obama appearance may be in the offing, planned for November 1st — the last SNL before the election.
(Update: A rep for the show calls the rumor "totally untrue" but, to be fair, rumors of the Palin appearance were initially denied. SNL executive producer Lorne Michaels told the Chicago Tribune last week, "I think, sooner or later, everyone will come through" before the election. So note the question mark in the headline, and proceed accordingly.)
The presidential frontrunner was on the show once before almost a year ago, on November 3, 2007, on the last SNL before the writer's strike (and the last show before it got majorly buzzy). Since then, the show has boasted presidential-candidate cameos from Hillary Clinton and John McCain, plus already-disqualified candidates Mike Huckabee and Rudy Giliani. Meanwhile, vice-presidential candidate Sarah Palin appeared last weekend; so far, Joe Biden has yet to take his turn on the Studio 8H stage.
Obama was supposed to appear on the season premiere, hosted by Michael Phelps, but had to cancel due to Hurricane Ike. Though he could presumably have appeared on this weekend's show with host Jon Hamm of Mad Men, with his grandmother ill it seems a stretch; moreover, appearing on the last show before the election keeps McCain from clamoring for his chance, too. (Since this will be Obama's first appearance on the show since primary season officially kicked off, they can technically claim that everyone's gotten at least one chance to appear during the actual election.)
If he does appear on the show, it will make more than just Lorne Michaels happy — the November 1st host is uber-Democrat Ben Affleck, who hosted a fundraiser for Obama last March.
While the November 1st show will indeed be the last show before the election, it may also be something else: The last show for Amy Poehler — if she can get her unborn baby to co-operate. As anyone who watched the show last weekend can attest, Poehler is enormously pregnant,and is due at the end of this month. If the little one can hold out, that will give Poehler four live shows to go — two SNLs and two SNL Thursdays. If not, there's always a repeat vieweing of the Sarah Palin rap. That thing never gets old.
So: Is it really that hard to be funny about Obama? On November 1st we may just find out.
Update: Then there's this from Lorne Michaels in an interview with Entertainment Weekly:
EW: Any other planned candidate appearances before the election?
LM: Yes, but again, until they're in the building I'm not going to talk about it.
Update III: I hear Biden and McCain are in the offing for an SNL pit-stop as well. Recall that McCain was last on for the finale last May — before we even knew who the Democratic nominee would be, except for all those people who kept going on about math n' stuff.
Snap out of it, Barack.
A) You've already got that demographic.
B) Candidates appear on SNL to prove they're down-to-earth. You've already got that too.
I tend to agree — it seems like Obama's got more to lose from an SNL appearance than he does to gain from it. Which is why I urged you at the top to note that these were just rumors. That said, SNL gets a LOT of post-Saturday play, and a nice friendly clip for the Sunday-Monday rotation might not be the worst strategy when Tuesday's sort of important.
Related
Popular in the Community