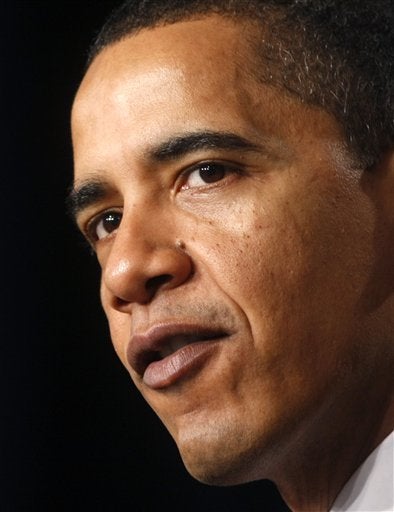 Asked for the first time to respond to the likelihood that Spanish prosecutors will target officials in the Bush administration for sanctioning torture at Guantanamo Bay, Barack Obama stressed, once again, that he prefers to look forward, not backward.
In an interview with CNN En Español that aired on Wednesday, the president noted that his administration had ordered the closure of Guantanamo and put an end to policies of
enhanced interrogation that "ran counter to American values." But he wouldn't wade into the debate over a lawsuit filed by six Spaniards who allege they were tortured at the detention center. A Spanish court is threatening to investigate former Bush officials, including Attorney General Alberto Gonzales, for their complicity in torture.
"I'm a strong believer that it's important to look forward and not backwards, and to remind ourselves that we do have very real security threats out there," said Obama. "So I have not had direct conversations with the Spanish government about these issues. My team has been in communications with them. I think that we are moving a process forward here in the United States to understand what happened, but also to focus on how we make sure that the manner in which we operate currently is consistent with our values and our traditions. And so my sense is, is that this will be worked out over time."
The non-committal response is consistent with the president's stance on domestic efforts to launch an investigation into the possible illegalities of the Bush years. The White House still has not taken a position on Sen. Patrick Leahy's proposed truth and reconciliation commission for such a task. But it does represent a bit more clarity than what was offered this past week at the White House press briefing, when Press Secretary Robert Gibbs -- at one point -- joked away questions about where the administration stood on the potential indictments.
UPDATE: The issue, as it pertains to the Spanish courts, may be moot. The country's attorney general said on Thursday that he is declining to open an investigation the six Bush administration officials, arguing that such a case should be handled in a U.S. courtroom. On a macro-level, of course, Obama's answer to the question is still news, in that it underscores his hesitancy to see these investigations conducted -- domestically and abroad.
Popular in the Community