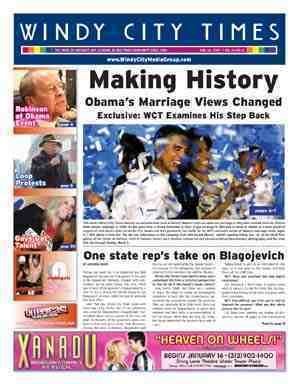 According to the Windy City Times, during the 1996 race for the Illinois State Senate, President-Elect Barack Obama gave statements that expressed an "unequivocal support for gay marriage."
From the WCT's press release:
President-elect Obama's answer to a 1996 Outlines newspaper question on marriage was: "I favor legalizing same-sex marriages, and would fight efforts to prohibit such marriages." There was no use of the phrase "civil unions". [Outlines purchased Windy City Times in 2000 and merged companies.]


This answer is among those included in this week's Windy City Times feature on Obama's evolving position on gay marriage. Windy City Times also includes his answers to the candidate questionnaire of IMPACT, at one time a gay political action committee in Illinois. In that survey he also stated his support of same-sex marriage.

During the final weeks of the presidential campaign last fall, several media outlets contacted Windy City Times because of an old internet story from the 1996 Illinois state Senate race. In that campaign, Outlines newspaper reported that 13th District candidate Barack Obama supported gay marriage. Reporters wanted to know what exactly Obama had said.

Outlines summarized the results in that 1996 article by Trudy Ring, but did not list exact answers to questions. In that article Outlines did note that Obama was a supporter of same-sex marriage and that article was never challenged or corrected by Obama. Just recently, the original Outlines and IMPACT surveys were found in the newspaper's archives.
This story will run as an exclusive in tomorrow's Windy City Times, which will include a corresponding piece from University of Chicago doctoral candidate Timothy Stewart-Winter, which will examine this issue in "the context of Obama's race in 1996 against incumbent Alice Palmer."
Related
Popular in the Community