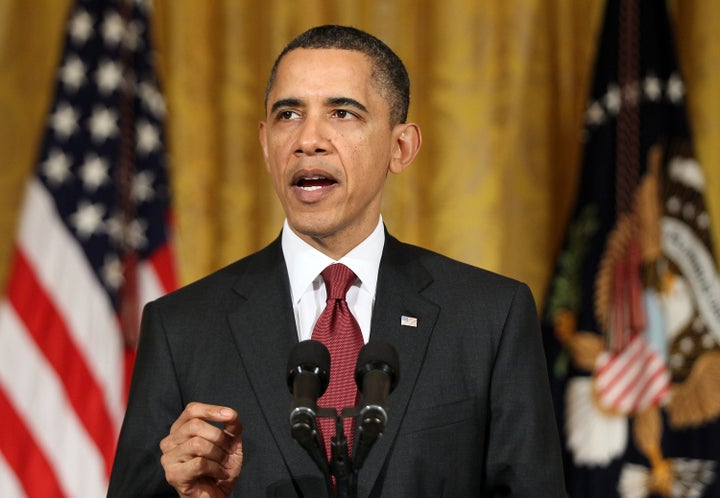 WASHINGTON -- The media coverage of the ongoing debt ceiling negotiations has often painted President Obama as painfully eager to be considered a champion of austerity. Yet White House staff say the press has generally misunderstood or mislabled the president's motives. Ask top aides what the administration prioritizes, and they will place job creation well above spending reductions.
Obama delivered many messages at his Wednesday's press conference addressing the economy and the debt ceiling. But underlying his remarks was an effort by the White House to re-frame the austerity narrative. Obama on several occasions said the primary goal of any debt- or deficit-reduction deal had to be, first and foremost, creating the type of economic environment that would spur growth.
To many progressives, Obama's logic appears flawed. How would slashing trillions of dollars from the budget over the next decade help the 14 million Americans who are currently unemployed? But tucked beneath the president's rhetorical strains was an important declaration:
"One of the most important things we can do for debt and deficit reduction is to grow the economy," Obama said. "Deficit reduction, debt reduction should be part of an overall package for job growth over the long term. It is not the only part of it, but it is an important part of it."
To bolster that statement, the president offered a preview of how congressional Democrats might ultimately agree to a debt-ceiling bill they may not philosophically support. Lawmakers, Obama said, should be comfortable attaching stimulus measures to a debt ceiling deal, even if those measures would increase the deficit in the short term.
"If there are steps in the short term [that] may reduce the amount of cash in the treasury but in the long term mean we are growing at 3.5 percent instead of 2.5 percent, then those ideas are worth exploring," he said.
As for what those "ideas worth exploring" might be, White House Press Secretary Jay Carney has spoken about the president's support for "targeted investments ... in education, in research and development, innovation and infrastructure" to be included in the debt ceiling package. Other administration officials have hinted that an infrastructure bank would be a logical add-on.
On Tuesday, Obama appeared more focused on extending certain tax cuts than offering any additional spending; he proposed prolonging payroll tax breaks and eliminating capital gains rates for start-up companies.
"It makes sense if we are looking at an overall package to see whether there are some things we can do to sustain the recovery, so long as the overall package achieves our goals, ... which is $4 trillion worth of cuts over a 12-year period and making sure we are bending the costs of things like health care over the long term," he explained.
Many economists consider infrastructure spending widely more beneficial than re-figuring tax incentives. Still, as a congressional outreach goes, offering a bit of stimulus to go alongside a major debt-reduction deal makes some sense. For one thing, Hill Democrats have been demanding it.
Second, so long as a stimulus is placed within that larger package of cuts, it becomes difficult for Republicans to criticize. The only argument mustered in opposition to the idea was that the debt ceiling bill wasn't the right vehicle for a targeted stimulus.
"Why do it in the debt ceiling?" asked a Senate GOP leadership aide. "We're in the middle of the appropriations process."
Popular in the Community