President Barack Obama flew to Roseburg, Oregon, one week after a mass shooting at Umpqua Community College that took the lives of 10 people and injured nine others.
Obama met privately with the families of the victims of the shooting, which was the 45th shooting at a school in the U.S. this year.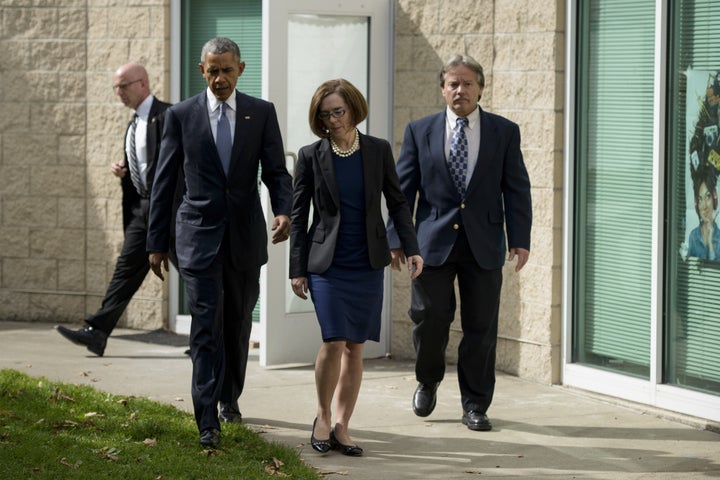 Obama promised Oregon Gov. Kate Brown (D), who appeared with him on Friday, he would do everything he could to help prevent other shootings from happening.
"I've obviously got very strong feelings about this," Obama said, according to a White House pool report.
"We're going to have to come together as a country, but today is about the families," Obama added.
Several gun-rights activists protested Obama's appearance by carrying signs and handguns along the road the president took to meet with family members.
After the Oregon shooting on Oct. 1, Obama expressed frustration with lawmakers for not taking action to strengthen gun laws, saying mass shootings have "become routine."
"We've become numb to this," Obama said in a statement given from the White House.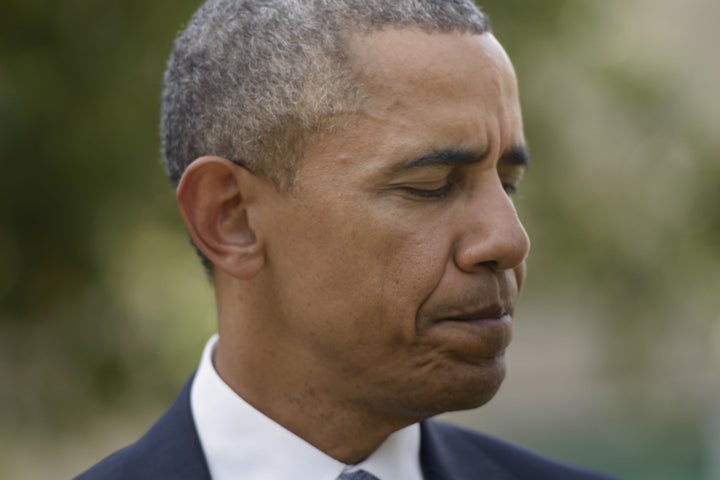 Obama has given statements on at least 15 mass shootings, including the UCC massacre, during his time in office. He has continually called for tighter gun control laws, something many Americans agree with. According to a HuffPost/YouGov poll, nearly half of Americans think laws governing the sale of handguns should be stricter, and a majority of Americans favor requiring a background check to be completed before all gun sales.
Senate Democrats unveiled plans for gun control reforms, including a stronger background check system, less than one week after the Oregon shooting. The reforms are modeled after the Manchin-Toomey bill proposed in the aftermath of the Sandy Hook shooting, where 20 children and six adults where killed by a gunman at an elementary school in Connecticut. That bill failed in the Senate.
A HuffPost/YouGov poll shows 40 percent of Americans know someone who was fatally shot or who committed suicide using a gun. Twenty-two percent of American adults say they personally know someone who was killed by another person with a gun, with 6 percent saying the victim was someone in their family.
PHOTO GALLERY
Politicians React To Umpqua Community College Shooting
REAL LIFE. REAL NEWS. REAL VOICES.
Help us tell more of the stories that matter from voices that too often remain unheard.