Obama said that public officials like Kim Davis, the Kentucky clerk, had an obligation to uphold the law, even if they were religiously opposed to it.
"I am a man of faith and believe deeply in religious freedom, but at the end of the day, nobody is above the rule of law — especially someone who voluntarily takes an oath to uphold that law. That's something we've got to respect," he said.
The president also said that through his daughters and their friends he could already see a generational shift in attitudes towards gay people.
"To Malia and Sasha and their friends, discrimination in any form against anyone doesn't make sense. It doesn't dawn on them that friends who are gay or friends' parents who are same-sex couples should be treated differently than anyone else. That's powerful," he said.
"My sense is that a lot of parents across the country aren't going to want to sit around the dinner table and try to justify to their kids why a gay teacher or a transgender best friend isn't quite as equal as someone else," he continued. "That's also why it's so important to end harmful practices like conversion therapy for young people and allow them to be who they are."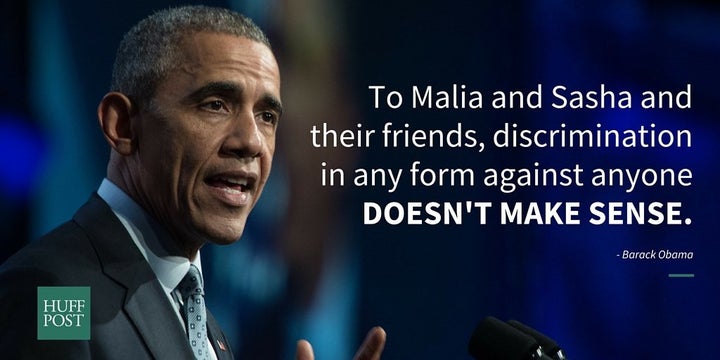 Obama told the magazine that the first openly gay person he could remember meeting was Lawrence Goldyn, one of his professors at Occidental College, who mentored LGBT students.
"We became good friends. He went out of his way to advise lesbian, gay, and transgender students at Occidental, and keep in mind, this was 1978. That took a lot of courage, a lot of confidence in who you are and what you stand for."
Read Out's full interview with Obama here.
PHOTO GALLERY
Celebrations Of Same-Sex Marriage
Calling all HuffPost superfans!
Sign up for membership to become a founding member and help shape HuffPost's next chapter