WASHINGTON -- In a rare Sunday evening Oval Office address, President Barack Obama spoke directly to the American public about Wednesday's mass shooting in San Bernardino, California, reaffirming his commitment to fighting the so-called Islamic State, or ISIS, though he did not announce any new policies to do so.
"I am confident that we will succeed in this mission, because we are on the right side of history," he said. "Freedom is more powerful than fear."
Obama reiterated that the U.S. would continue its current strategy, consisting of hunting down terrorists; training Iraqi and Syrian forces on the ground; disrupting potential ISIS plots, in cooperation with authorities in Europe and the Middle East; and pursuing a political resolution to the ongoing Syrian civil war.
He asked Congress to vote to authorize military force, which it has not done, despite more than a year of U.S. military action against ISIS. He also requested measures such as reforming the visa waiver program and closing a loophole that allows someone on a no-fly list to buy a gun.
As he has done many times after mass shootings, Obama also implored Congress to renew consideration of gun control measures in response to Wednesday's attack, which killed 14 people and wounded 21. It was the deadliest shooting since the elementary school massacre in Newtown, Connecticut, in 2012, the last time Congress attempted to take legislative action on guns.
Billed by White House officials as a way to assuage Americans' fears, the speech -- only the third Obama has delivered directly from the Oval Office during his presidency -- addressed growing concerns about fighting terrorism and threats from ISIS.
The FBI is investigating the San Bernardino shooting as a possible case of terrorism. Federal authorities say that the two alleged attackers, Syed Farook and Tashfeen Malik, might have been inspired by ISIS, and Malik had posted comments on social media pledging allegiance to the group.
"So far we have no evidence that they were directed by terrorist organizations overseas or directed by a conspiracy here at home," Obama said.
Obama also denounced Islamophobia and asked Americans not to equate ISIS with all Muslim people.
"We cannot turn against one another," he said. "That's what groups like ISIL want."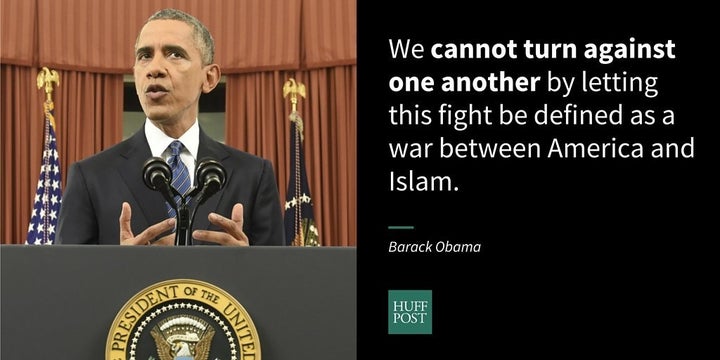 Obama himself made the determination to make the speech at the end of this past week, a senior administration official said. And he did so because he and his advisers "recognized that there are very real and legitimate fears in the United States and around the world about this terrorist threat." As for the setting -- the Oval Office -- the senior official said the president felt it was "familiar and appropriate" for Americans, and underscored the "seriousness with which we are taking the issue."
Acknowledging a war-weary public, Obama has been reluctant to propose a more aggressive military strategy in the Middle East but has gradually increased the U.S. military presence in the region. Last week, Defense Secretary Ash Carter announced that the U.S. will send a special force of several hundred troops to Iraq, joining about 3,300 troops already stationed there to assist Iraqi forces, as well as a handful of troops in Syria.
Despite the uptick in troops, Obama stressed that he does not intend to pursue a full-scale ground war in the Middle East, for fear that it could fuel more terrorism.
Obama's speech pointed to a re-evaluation of his foreign policy amid mounting pressure from critics who say that he needs to do more to defeat ISIS, such as establishing a no-fly zone and authorizing a more substantial amount of troops to directly fight Islamic militant groups in the Middle East, rather than keeping the current strategy of airstrikes. Lawmakers, particularly Republicans, have become more vocal about their concerns following last month's terrorist attacks in Paris and have urged Obama to recognize ISIS as a growing threat.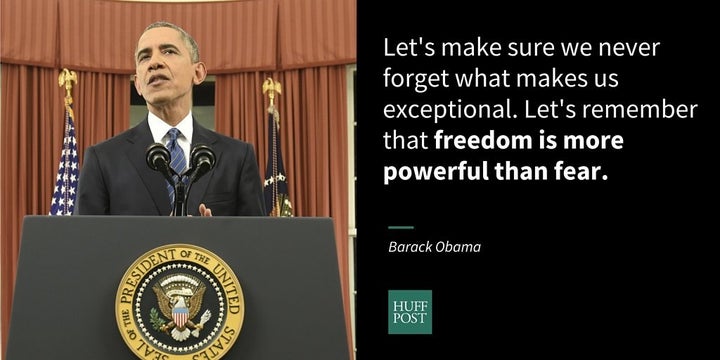 The senior official pushed back on the argument that the president had misjudged the severity of threat in the days prior to the San Bernardino attack -- given that the administration said before Thanksgiving that there was "no specific or credible threat" to the United States. The official noted that there was no indication that the attackers in San Bernardino had been instructed by a larger terrorist ring.
Following the speech, the president attended the annual Kennedy Center Honors at the Kennedy Center, about a mile away from the White House. There are no plans at this point for Obama to travel to San Bernardino to meet with the victims' families, the senior official said. But that could change depending on how the city chooses to memorialize those who lost their lives in the attack.
Sam Stein contributed reporting.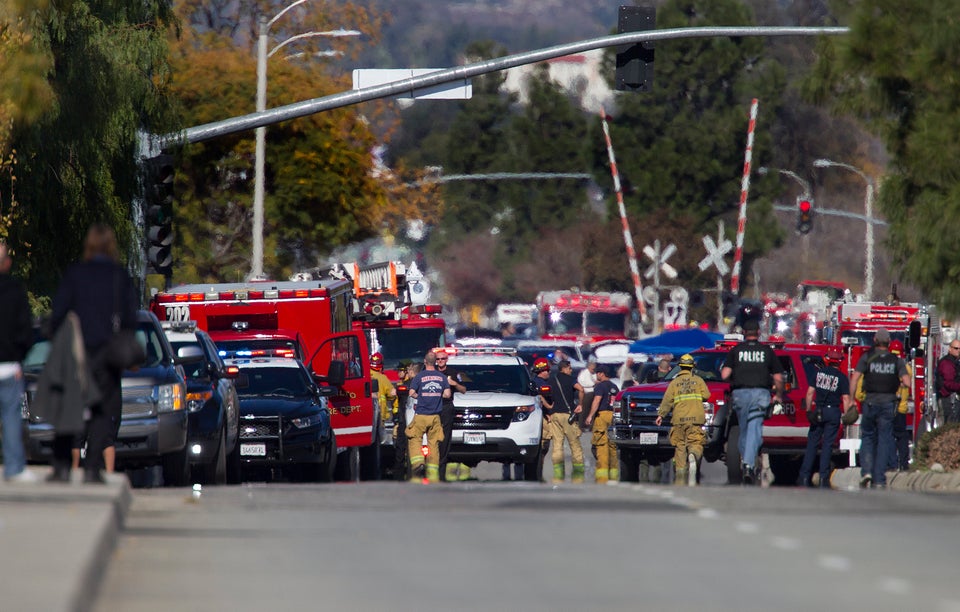 San Bernardino Shooting Photos
Popular in the Community