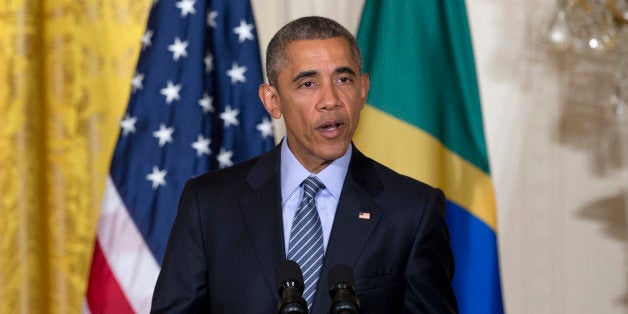 NEW YORK -- When reporters covered President Barack Obama's proposal Monday night to extend overtime pay to millions of additional Americans, some, still on the clock past dinnertime, may have wondered whether they'd make the cut.
Under the proposal, salaried workers earning under $50,440 would automatically qualify for overtime pay after working 40 hours in a week. That's a significant jump from the current threshold of $23,660, and it would vastly increase the number of salaried workers eligible for overtime, which pays at one-and-a-half times the normal pay rate.
Obama has specifically pointed to retail store managers as the sort of overworked employees who would benefit from the change. But the reform would be broad enough to also affect the many reporters, editors and producers who routinely work long and unpredictable hours for relatively modest pay. While many media companies haven't had to think at all about paying workers overtime, that could be about to change.
According to the Bureau of Labor Statistics, reporters and correspondents earned a median salary of $36,000 last year, with workers in the bottom quartile earning a median of just $26,910 -- far below the threshold proposed by the White House. The median salary for an editor -- a classification that covers the whole publishing industry -- was $54,890, about $4,000 above the planned threshold, with the bottom quartile down at $39,130.
In local television news, specifically, the median salary for a reporter in 2014 was $31,000. An annual survey by the Radio Television Digital News Association, conducted by Hofstra professor Bob Papper, noted several positions whose median salary would fall below the proposed threshold, including assignment editor ($38,000), news producer ($31,000) and news assistant ($30,000).
Journalists typically command higher salaries in power centers like New York and Washington, though both cities are awash with up-and-comers who come in well under the suggested cap.
Like any other business covered by the reform, news outlets with workers newly eligible for overtime will face a choice. They could start paying time-and-a-half to qualifying journalists whose hours run long, or they could make sure to keep those employees' hours in check and avoid paying the overtime premium. To accomplish the latter, organizations might spread the work around to other, perhaps new, employees, or they could attempt to produce their newspapers or websites with a little less labor.
Many newsrooms may already be paying overtime to salaried workers regardless of their pay, particularly if there's a union contract stipulating as much. Guild-represented reporters at The New York Times, for instance, receive time-and-a-half after working 40 hours. But while such union agreements are more common in legacy news organizations, they're virtually unheard of at newer media outlets.
The Obama administration plans to institute the proposal through executive power, just as President George W. Bush did, making it unlikely that Republicans will find a way to block the change. Still, the rule must go through a 60-day comment period before it can be finalized, and business groups will continue to lobby against it.
The Huffington Post said on Wednesday that it's looking into how to come into compliance with the rule. "We're reviewing the new rule right away so we can begin implementing it long before it takes effect," a spokeswoman said.
Some digital outlets are taking a wait-and-see approach. "If this happens, we will certainly comply," a BuzzFeed spokesman said.
A Vox Media spokeswoman declined to comment, while spokespeople from Politico and Vice did not provide comment by press time.
If it's instituted, the reform could raise questions about what constitutes work in and outside the newsroom. Would a reporter count two hours spent drinking with a source toward their 40 hours? Tweeting news from one's couch at 10 p.m. may suggest one is on the clock, but what if one is simultaneously tweeting about a basketball game or awards show? The line between reporting and socializing, on social media and otherwise, easily blurs.
Slate's Jordan Weissmann wrote Tuesday about how the situation gets murky when assessing the hours a journalist has worked or should work on a given assignment, from quick blog posts to more time-intensive articles.
Newsrooms should have at least several months to prepare for the reform, which the White House says it wants to see implemented sometime in 2016.
Are you an employee or a manager who will be affected by Obama's proposal? Email us and tell us how your organization plans to deal with the new rules on overtime pay.
Related
Popular in the Community