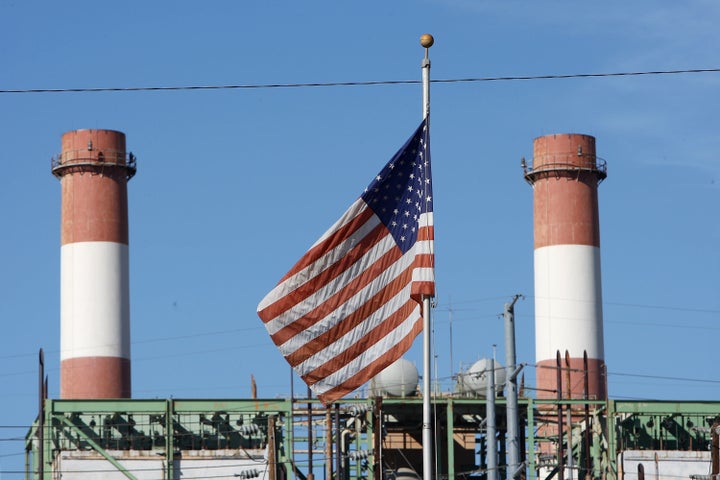 "Ridiculous." "Illegal." "Dangerous." President Barack Obama's decision to shelve a proposed tightening of ozone standards has prompted a deluge of angry remarks from environment and public health researchers.
"I am outraged. This is a serious mistake for public health," Janice Nolen, assistant vice president of the American Lung Association, told The Huffington Post. "The current standard used was based on the science as of 14 years ago -- before we knew that ozone killed people."
Friday's announcement comes in the wake of four prior delays by the EPA on revising national air quality standards for the main ingredient in smog. The agency's scientific advisers have recommended reducing the ground-level ozone standard to between 60 and 70 parts per billion, from the current 84 parts per billion standard set in 1997. EPA estimates that this would save up to 12,000 American lives, 58,000 asthma attacks and 2.5 million missed days of school or work each year.
The decision also comes the same day that the Bureau of Labor Statistics reported that no new jobs were added to the U.S. economy in August.
"I have continued to underscore the importance of reducing regulatory burdens and regulatory uncertainty, particularly as our economy continues to recover," Obama said in a statement. "With that in mind, and after careful consideration, I have requested that Administrator Jackson withdraw the draft Ozone National Ambient Air Quality Standards at this time."
Jack Gerard, president and CEO of the American Petroleum Institute, is among those pleased with Obama's call. "The president's decision is good news for the economy and Americans looking for work," he said in a statement. "EPA's proposal would have prevented the very job creation that President Obama has identified as his top priority."
"Today's decision to wait to review the standard until 2013 is the right move to protect jobs, and we hope it serves as a cautionary tale," added Jay Timmons, president and CEO of the National Association of Manufacturers, in a statement. "If policymakers want manufacturers to help put the economy back on solid footing, we need policies that enable us to create jobs, invest and compete in the global marketplace."
But a number of environmental groups disagree, including the Union of Concerned Scientists and the Natural Resources Defense Council. "It is frustrating to see them kowtowing to this notion that you can't save jobs and the environment, when in reality we know that the best way to have a successful economy is to have healthy people," Liz Perera of the Union of Concerned Scientists, a nonprofit science advocacy group, told HuffPost. "It's not helping our economy when people have to stay home to care for kids having asthma attacks."
Asthma alone costs the U.S. economy $20 billion a year due to health and productivity losses, according to the National Institutes of Health.
"The jobs argument is a red herring thrown out there by Tea Party-types to try to continue their assault on EPA regulations," added Bob Keefe, senior press secretary for the NRDC. "If you've got to upgrade power plants, you have to hire people: construction workers."
Further, he told HuffPost that costs in terms of medical bills and missed work would have a "bigger impact on the economy than any jobs that might be lost."
Critics of today's decision also point out that, under the Clean Air Act, air quality standards must be based solely on the science -- not politics. And that science is changing all the time. Since the current standard was put in place, studies have suggested links between ozone pollution and respiratory illness, cardiac disease and premature death.
Asthmatic children are among the most vulnerable to ozone, with those using inhalers suffering increased shortness of breath and a need for rescue medication at exposures as low as 50 parts per billion, according to a 2003 study. Even healthy adults can suffer a significant decrease in lung function following prolonged exposure to ozone levels of 60 parts per billion, according to another study published in 2010.
Perhaps even more concerning is research from 2004 that looked at 95 large urban areas in the U.S. and found that an estimated 3,700 deaths could be attributed each year to small daily increases in ozone levels.
But none of these studies, which represent only a portion of the current science, are taken into account by the existing rule. "We're here in 2011 with a more than 10-year-old standard that is set based on more than 10-year-old science," said Perera.
"And this is just going to get worse in a warming world," she added. "It is a chemical fact. We know the more heat, the more ozone is going to form. This delay is all the more ridiculous when you look at this study and numbers of other studies have shown that we have got to start ratcheting down emissions now. This is a dangerous precedent."
The Union of Concerned Scientists published its own report in June concerning climate change-induced ozone increases that could result in an array of health-related costs by 2020: 2.8 million additional serious respiratory illnesses and nearly a million additional missed school days, all amounting to about $5.4 billion in costs.
Some states may be impacted more than others. "Only national enforcement will protect us here in Rhode Island from the 'bad air' days we experience due to ozone caused by out-of-state power plants," Sen. Sheldon Whitehouse (D-R.I.) said in a statement. "Many of these Midwestern power plants have inadequate pollution controls or none at all, and use tall smokestacks to launch the pollution into prevailing winds that bring ozone here to Rhode Island."
"The existing ozone rule was a travesty of the Bush Administration that violated the recommendations of EPA's own scientific advisory panel," he added. "I objected to it then, and I object to its continuation now. While I appreciate that the Obama administration has stood by other clean air improvements, this decision is very unfortunate."
In 2008, the Bush administration attempted to set the standard at 75 parts per billion. When the Obama administration recognized that this would not hold up in court, they tossed it aside and began the re-evaluation process. Five postponements later, 84 parts per billion remains the only enforceable figure.
The NRDC and American Lung Association, among other groups, filed a lawsuit against the EPA in 2008 suggesting that such a high limit was illegal, but held off with processing after the Obama administration pledged to reconsider and strengthen the standard.
"We are now reactivating that lawsuit," said Keefe.
Popular in the Community