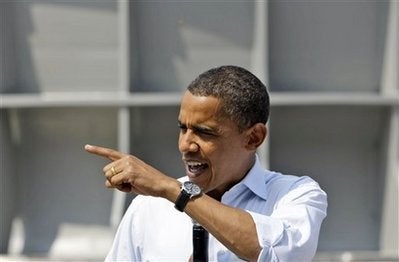 Barack Obama responded personally to Sarah Palin's harsh speech at the Republican National Convention in York, Pennsylvania. "You're hearing an awful lot about me, most of which is not true," he said. "What you're not hearing is a lot about you." His full remarks:
"You wouldn't know that this is such a critical election by watching the convention last night. I know we had our week and so, you know, the Republicans deserve theirs. But it's been amazing to me to watch. Over the last two nights, if you sit there and you watch it, you're hearing a lot about John McCain -- and he's got a compelling biography as a POW. You're hearing an awful lot about me, most of which is not true. What you're not hearing is a lot about you."

"I mean, you haven't heard one word about how they're going to make the health care system work so that if a union's negotiating with a company, it's not all just a discussion about higher premiums, and you can actually start talking about higher wages and benefits. You haven't heard one word about how we're going to create more apprenticeship programs like the ones that we have here or give other people a chance to train in new trades. You haven't heard a word about getting serious about green and alternative energy, the kind of work that is resulting in all the expansion and additional hiring here. You haven't heard a word about how we're going to strengthen unions so that working people get a decent stake. You haven't heard a word about how we're going to improve math and science education so that we can hire more engineers to create more products in green technology. You haven't heard a word about how we're going to deal with any aspect of the economy that is affecting you and your pocketbook day-to-day. Haven't heard a word about it. I'm not exaggerating. Literally, two nights, they have not said a word about it. They've had a lot to say about me, but they haven't had anything to say about you. And the thing that I'm insisting on in this election is that we can't keep playing the same political games we always play."
Asked about attacks on him Wednesday night by Republican vice presidential nominee Sarah Palin, Obama declined to strike back. "I'll let Gov. Palin talk about her experience. I'll talk about mine," Obama said
But earlier in the day Obama's top strategist, David Alexrod, dismissed the Alaska governor's convention speech as dishonest about Obama's record.
Axelrod told reporters aboard Obama's campaign plane that the Republican National Convention speakers had distorted the Democratic candidate's record and ignored his resume. He also suggested that John McCain's running mate was only parroting what she'd been told.
"There wasn't one thing that she said about Obama or what he's proposing that is true," Axelrod said. "She tried to attack Sen. Obama by saying he had no significant legislative achievements. Maybe that's what she was told."
On Wednesday, Republicans sought to define Obama as untested and inexperienced, making light of his past work as a community organizer in Chicago.
"For everyday people, ... that seems like real work," said Axelrod.
Ultimately, Axelrod said, the Republicans squandered an opportunity to promote their candidate. He also questioned the emphasis on McCain's years as a prisoner of war, saying the Arizona senator's history already was well known.
"They're shedding an awfully lot of heat but no light," he said. "It almost defies the laws of physics."
As for Palin's claim to be a political outsider, Axelrod said that given her pointed criticism of Obama, "for someone who makes the point that she's not from Washington, she looked very much like she would fit in very well there."