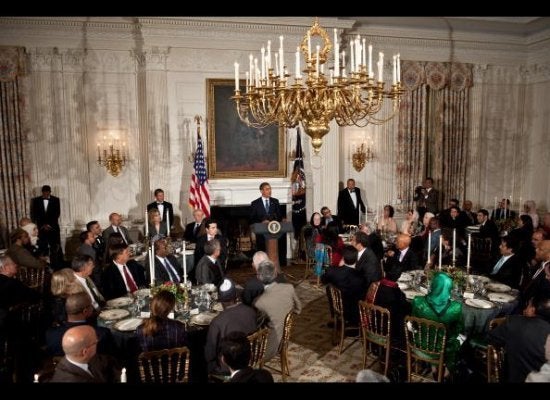 President Obama honored the sacrifices that Muslim Americans have made for the country on Wednesday night at the White House's annual Ramadan dinner. With only a month to go before the tenth anniversary of the 9/11 attacks, Obama emphasized the role that Muslim Americans played in the wake of the attacks, and their contributions to the war efforts in Iraq and Afghanistan.
"Muslim Americans were [the] first responders ... the EMTs … the nurse who tended to so many victims, the naval officer at the Pentagon who rushed into the flames and pulled the injured to safety," the president told approximately 100 guests before the meal.
Obama paid tribute to the "brave service of our men and women in uniform, including thousands of Muslim Americans … [and] some [who] have made the ultimate sacrifice."
Obama recalled Army Specialist Kareem Khan, who was killed in Iraq, and thanked Khan's mother for attending the dinner. "We must be the America they lived for, and the America they died for," he said.
The dinner is known as an "iftar," and it breaks the daylong fast Muslims observe from sunrise to sunset during the holy month of Ramadan. The tradition of hosting an iftar at the White House was begun by President Bill Clinton, and continued by George W. Bush. This will be Obama's third as president.
In the audience were the two members of Congress who practice Islam, Reps. Andre Carson (D-Ind.) and Keith Ellison (D-Minn.), as well as Rep. John Conyers (D-Mich.) and Rep. Donald Payne (D-N.J.). Also attending were government officials, Muslim community leaders and other leaders of faith groups.
Ramadan follows a lunar calendar and has occurred in late August and September during the past two years, but this year it runs from August 1 to 30. Fittingly then, Obama opened his speech by saying, "This year, Ramadan is entirely in August. That means the days are long, the weather is hot and you are hungry. So I will be brief."
In addition to those names released by the White House, below, members of the press observed White House Press Secretary Jay Carney, State Department Special Envoy to Muslim Communities Farah Pandith, the Special Assistant to Secretary of State Hillary Clinton Huma Abedin, Deputy National Security Adviser John Brennan, White House Senior Adviser Valerie Jarrett and Obama Special Assistant for Multilateral Affairs Samantha Power.
Guests at Wednesday's iftar, as released by the White House:
MEMBERS OF CONGRESS
The Honorable Andre Carson, United States Representative
The Honorable John Conyers, United States Representative
The Honorable Keith Ellison, United States Representative
The Honorable Donald Payne, United States Representative

DIPLOMATIC CORPS
Her Excellency Amina Salum Ali, Ambassador, African Union Mission
His Excellency Abdallah Baali, Ambassador, People's Democratic Republic of Algeria
His Excellency Yashar Aliyev, Ambassador of the Republic of Azerbaijan
Her Excellency Huda Ezra Nonoo, Ambassador of Bahrain
His Excellency Akramul Qader, Ambassador of the People's Republic of Bangladesh
His Excellency Bienvenu Joseph Charles Foe-Atangana, Ambassador of Cameroon
His Excellency Adam Bechir Mahamoud, Ambassador of the Republic of Chad
His Excellency Roble Olhaye, Ambassador of the Republic of Djibouti
His Excellency Sameh Hassan Shoukry, Ambassador of the Arab Republic of Egypt
His Excellency Mory Karamoko Kaba, Ambassador of Guinea
His Excellency Bayney Ram Karran, Ambassador of Guyana
His Excellency Dino Patti Djalal, Ambassador of Indonesia
His Excellency Samir Shakir Mahmood Sumaida'ie, Ambassador of the Republic of Iraq
His Excellency Micahel Scott Oren, Ambassador of Israel
His Excellency Aziz Mekour, Ambassador of the Kingdom of Morocco
Her Excellency Aminata Maiga Djibrilla, Ambassador of Niger
Her Excellency Hunaina Sultan Ahmed Al Mughairy, Ambassador of the Sultanate of Oman
His Excellency Husain Haqqani, Ambassador of Pakistan
His Excellency Mr. Maen Areikat, Ambassador, PLO Mission
His Excellency Ali Bin Fahad Faleh Al-Hajri, Ambassador of the State of Qatar
His Excellency Sergey Ivanovich Kislyak, Ambassador of the Russian Federation
His Excellency Adel A.M. Al-Jubeir, Ambassador of Saudi Arabia
Her Excellency Fatou Danielle Diagne, Ambassador of Senegal
His Excellency Bockari Kortu Stevens, Ambassador of Sierra Leone
His Excellency Subhas Chandra Mungra, Ambassador of the Republic of Suriname
His Excellency Mwanaidi Sinare Maajar, Ambassador of Tanzania
His Excellency Edawe Limbiye Kadangha Bariki, Ambassador, Togo
His Excellency Namik Tan, Ambassador of the Republic of Turkey
His Excellency Yousif Mana Saeed Alotaiba, Ambassador, United Arab Emirates
His Excellency Ilhomjon Tuychievich Nematov, Ambassador of the Republic of Uzbekistan
His Excellency Abdulwahab A. Al Hajjri, Ambassador of the Republic Yemen
His Excellency Ufuk Gokcen, Ambassador and Permanent Observer, Organization of the Islamic Conference
The Honorable Damir Dzanko, Chargé d'Affaires at Interim of Bosnia
The Honorable Sufyan Salman Qudah, Chargé d'Affaires at Interim of the Hashemite Kingdom of Jordan
The Honorable Jetish Jashari, Chargé d'Affaires at Embassy of Republic of Kosovo
The Honorable Tarek Ben Youssef, Chargé d'Affaires at Interim of Tunisia

COMMUNITY MEMBERS

Mr. Hamza Abdullah, Arizona Cardinals
Mr. Husain Abdullah, Minnesota Vikings
Ms. Dina Amer
Mrs. Durriya Badani, Brookings Institute
Ms. Faiza Arain, Los Angeles Police Department
Dr. Mahmoud Eboo, Aga Khan
Mr. Mohamed Ali Malouche, Tunisian American Young Professionals
Mr. Akram Syed, National Association of Indian Muslims
Mrs. Mansura Shajahan
Mr. Yusuf Shajahan
Dr. Manzoor Tariq, Association of Pakistani Physicians of North America
Calling all HuffPost superfans!
Sign up for membership to become a founding member and help shape HuffPost's next chapter