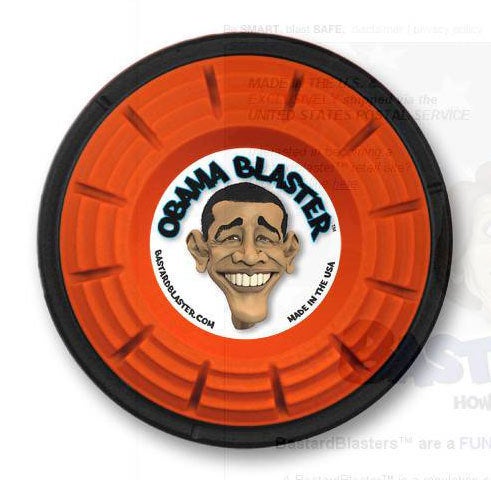 WASHINGTON -- A Washington company is hoping to make money off of people's frustrations with politics by selling "BastardBlaster" shooting targets, which feature the faces of President Barack Obama, House Minority Leader Nancy Pelosi (D-Calif.) and former GOP vice presidential candidate Sarah Palin.
"BastardBlasters are a FUN, FAST and EFFECTIVE way to relieve extreme political frustration!" reads the company's website, bastardblaster.com. "A BastardBlaster is a regulation clay target that's only purpose is to be completely destroyed by your method of choice. Obama, Palin, Pelosi ... they are all here & the list keeps growing. Find the one that works best for you. BastardBlasters look great on a desk or wall but even better in a THOUSAND PIECES!!!"
The site, which is run by Yipe Media Inc., features a video of a man with BastardBlaster clay targets attached to his jeans, one with Obama's face on it and another with Pelosi's face. A wooden paddle with the words "FLASH IT, BASH IT" appears and then smacks the man in the butt, smashing both of the targets into pieces. The paddle then shows the words, "HOPE & CHANGE, MY ASS!"
That video is one of a handful submitted to the website by people who have destroyed BastardBlasters in various ways. One video shows a man positioning an Obama target on the ground and then running over it with a Hummer. "That's what I wanted," the man says afterward. In another clip, some kind of explosive is shown wedged in between the Obama and Pelosi targets. It explodes, the targets shatter into pieces and a wooden sign drops down that says, "I Hate Those Bastards." In yet another video, a man is shown wearing a motorcycle helmet with a Pelosi target on it, with a sign above it that reads, "Pelosi Sucks." A wooden plank appears out of nowhere and whacks him in the head, smashing the Pelosi target.
Yipe Media launched in 2010, according to their Facebook page, and their BastardBlaster targets appear to have first gone on sale in December 2011, at a cost of $2.99 each. The website also sells t-shirts and mugs with images of Obama's, Pelosi's and Palin's faces on shooting targets.
Dan Klug, a co-creator of the BastardBlaster, told a local radio station on Wednesday that their goal is to give people "an outlet to have a little fun with."
When the radio show host said he found their venture "unsettling," Klug replied, "Anybody that wants to put some hate into it or anything like that for these people that are on there, that's them. It's not us."
Support HuffPost
The Stakes Have Never Been Higher
Popular in the Community