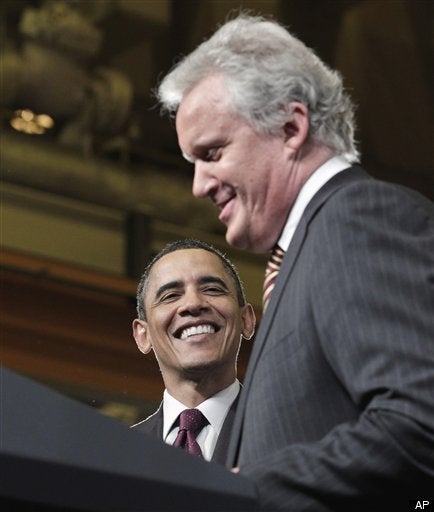 Jeffrey R. Immelt, the chairman and chief executive of General Electric Co. tapped by President Barack Obama as his next top outside economic adviser, will be asked to guide the White House as it attempts to jump-start lackluster job creation and spur a muddled recovery.
Immelt's firm stands as Exhibit A of a successful and profitable corporate America standing at the forefront of the recovery. It also represents the archetypal company that's hoarding cash, sending jobs overseas, relying on taxpayer bailouts and paying less taxes than envisioned.
The move is the latest salvo in the White House's continued aggressive and very public outreach to corporate America. Earlier this month, Obama appointed a top executive at JPMorgan Chase as his chief of staff, and this week he granted a longtime wish of business interests by promising to review federal regulations perceived as onerous.
Immelt's appointment raises fresh questions about Obama's courtship and future policy proposals. Firms like GE say good jobs will come from lower taxes and less regulation. Immelt told analysts Friday that he'll focus on tax policy and regulation, among other topics.
"A clear problem in the recovery is that it's been a much stronger recovery for business in terms of their profit and earnings than for those folks who work and earn a living in the U.S.," said Gary Burtless, a former Labor Department economist and now a fellow at the Brookings Institution, a research and policy organization in Washington.
Burtless said Immelt was likely hired to reassure corporate America. Political opponents have cast the Obama administration as unfriendly to business interests, and the administration has had difficulty rebutting that theme. Immelt's hiring was yet another step in that direction.
"It's a significant piece of outreach to the business community," said Douglas Holtz-Eakin, a former director of the Congressional Budget Office and top economic adviser to Sen. John McCain's 2008 presidential campaign. The appointment could mean business has a "genuine liaison" at the White House, Holtz-Eakin said.
"Business folks will trust an Immelt much more than an academic or a politician with academic experience," said Burtless.
Whether GE's chief executive should represent the White House in those discussions, though, is another matter. He will continue to serve atop GE while advising the Obama administration.
The corporate chieftain's experience running GE, one of the world's biggest companies, may shed light on the kinds of recommendations he'd make behind closed doors.
The company is sitting on $79 billion in cash, tops worldwide among non-financial publicly-traded companies, according to a Jan. 10 note by analysts at Standard and Poor's. In fact, GE's cash holdings are about 62 percent more than the next company, Toyota Motor Corp.
"We feel good about that," Immelt said in noting the "flexibility" the surplus cash gives the firm. GE generated a $11.6 billion profit last year, a six percent increase from the previous year.
Non-financial corporations sit atop a record $1.9 trillion in liquid assets, according to the Federal Reserve. Relative to their short-term liabilities, U.S. corporations haven't been this flush with cash since 1956. The administration has been critical of corporate cash-hoarding.
GE's improving fortunes reflect the general trend in corporate America. In the quarter ending Sept. 30, corporate profits reached an all-time high of $1.66 trillion on an annual basis, according to the Commerce Department.
Yet nearly one in ten American workers is jobless. The unemployment rate has been stuck above nine percent for 20 consecutive months, the longest such streak since records began in 1948, according to the Labor Department. When Barack Obama took office, joblessness stood at 7.8 percent.
And the rate isn't forecast to significantly decrease anytime soon. During the firm's Friday call with analysts, Keith S. Sherin, GE's vice chairman and chief financial officer, described the nation's unemployment situation as "sticky."
The diverging fortunes of big business and households reflect the central challenge faced by the Obama administration: What kind of policies can it implement to incentivize profitable firms to spend and hire at home?
As the administration struggles to prod businesses to create jobs at home, GE has been busy sending them abroad. Since Immelt took over in 2001, GE has shed 34,000 jobs in the U.S., according to its most recent annual filing with the Securities and Exchange Commission. But it's added 25,000 jobs overseas.
At the end of 2009, GE employed 36,000 more people abroad than it did in the U.S. In 2000, it was nearly the opposite.
Unions are worried. Leo Gerard, president of the United Steelworkers, said he hopes the Immelt-led White House panel won't be dominated by big business.
"It has to have more than CEOs that are already operating offshore," Gerard said.
Foreign work has proven lucrative to GE. In 2007, it derived half of its global sales from work abroad. In 2009, that share increased to 54 percent. U.S. sales have shrunk.
And rather than invest in the U.S., the company has decided to look elsewhere. In 2008 and 2009, GE decided to "indefinitely" reinvest prior-year earnings outside the country, according to SEC filings. That's helped the firm lower its tax rate.
In 2009, the Connecticut-based firm effectively had a negative tax rate, thanks to the $498 million loss it booked on U.S. operations versus the $10.8 billion in earnings it booked abroad. GE realized a $1.1 billion tax benefit in 2009.
In 2008, it paid $1.1 billion in taxes for a 5.3 percent tax rate. In 2007, it paid $4.2 billion in taxes for a 15.1 percent tax rate.
By comparison, during those three years -- 2007 through 2009 -- the firm reported combined net income of $50.6 billion.
The corporate tax rate in the U.S. is supposed to be 35 percent.
"I am so proud and pleased that Jeff has agreed to chair this panel -- my Council on Jobs and Competitiveness -- because we think GE has something to teach businesses all across America," Obama told a crowd of GE workers Friday at a plant in Schenectady, New York.
Immelt's appointment makes all but certain that the administration will focus on cutting corporate tax rates as part of the tax code overhaul Obama is reportedly considering, said Thomas Ferguson, a political science professor at the University of Massachusetts, Boston, and a senior fellow at the Roosevelt Institute, a New York-based research organization.
"It's hard to see corporate tax cuts as a problem for the U.S. right now," Ferguson said. "But those cuts are clearly coming. They've signaled that already," he said about the Obama administration.
Immelt, who's long had influence with the Obama White House -- he's visited the White House at least 16 times, meeting with Obama on at least five occasions -- is among an influential group of executives who want to see lower corporate tax rates. Corporate executives say lower taxes will lead to job creation as businesses would focus their cash on expansion.
And as Immelt takes over a council that had been dedicated to advising Obama on how to heal the economy and financial sector after the worst financial crisis since the Great Depression, observers noted the extent to which Immelt's firm benefited from various bailout programs.
While the previous council was led by former Federal Reserve Chairman Paul Volcker, whose warnings about the growth of the financial sector and the increasing riskiness it poses to the economy made him a hero to reformers, the current incarnation will be led by a chief executive who serves on the Federal Reserve Bank of New York's board of directors. His firm continues to benefit from lower costs thanks to the $55 billion of outstanding taxpayer-backed debt its finance unit has issued under a crisis-era program that was supposed to be for banks.
All told, GE and its subsidiary, GE Capital, accessed nearly $100 billion through programs created by the Federal Reserve and Federal Deposit Insurance Corporation to combat frozen credit markets.
"There are two problematical issues for folks who are not sympathetic to the president," said Burtless. One, "GE was intimately connected to the financial crisis," and two, "GE may have shifted a bigger proportion of its output outside the U.S."
On Friday, though, Immelt's hire was nearly universally praised by business groups.
Thomas J. Donohue, president and chief executive of the U.S. Chamber of Commerce, called Obama's move a "promising step toward a renewed focus on creating jobs, boosting economic growth, and enhancing America's global competitiveness." He added that Immelt was an "excellent choice."
Sam Stein and Marcus Baram contributed reporting.
*************************
Related
Popular in the Community