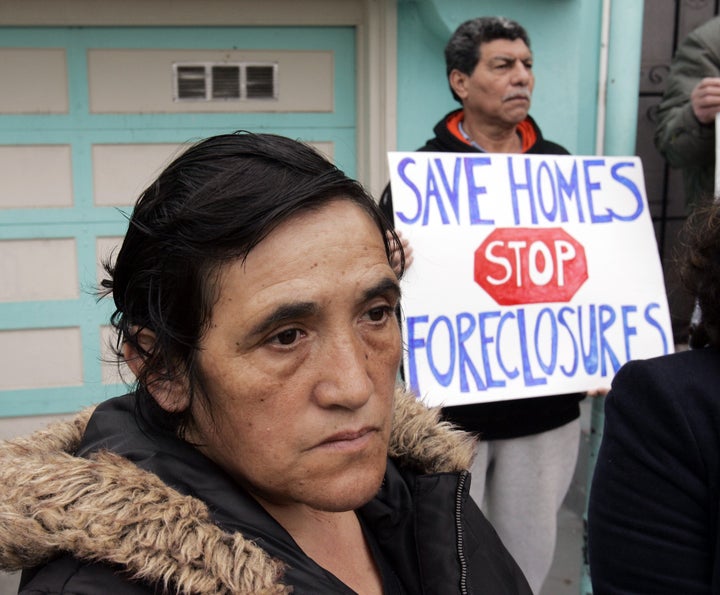 Nearly a year after the Obama administration announced a plan to help up to 1.5 million struggling homeowners modify their second mortgages, not a single homeowner has gotten any assistance.
The program, a part of the administration's $75 billion anti-foreclosure initiative, was supposed to induce mortgage servicers to coordinate payment reductions on additional mortgages when the first mortgage is modified under the administration's Home Affordable Modification Program.
But it's never gotten off the ground.
Housing experts say addressing second mortgages is essential in tackling the foreclosure crisis. For many homeowners, particularly those who owe more than their house is worth, modifying only one of the two mortgages is not enough to prevent foreclosure.
The plan was first announced last April. In August the Treasury Department released guidelines on how the program would work. Months passed before any servicers signed up. More than five weeks ago, Bank of America, the nation's largest servicer with about three million second liens, signed an agreement to join, but a bank spokeswoman said the firm is still awaiting final guidelines from Treasury before proceeding. A Treasury spokeswoman said the firm could technically begin the process now.
On Thursday, Citigroup chief executive Vikram Pandit told the Congressional Oversight Panel why Citi has not signed up yet. "We've said to the Treasury we're willing to work with them as to what this program is," Pandit said in response to a question from panel member Richard H. Neiman, New York's top bank regulator. "We have just seen the details," said Pandit. "I think it's prudent for us to go through that before we sign on."
About three million homes were lost to foreclosure last year, according to RealtyTrac; this year could be worse, in part because so many distressed homeowners have second mortgages. In April, the administration estimated that "up to 50 percent of at-risk mortgages currently have second liens."
In a fact sheet accompanying the administration's April 28, 2009, announcement the administration noted:
Second liens contribute to the number of American homeowners unable to afford their housing payments. Even where a first mortgage payment may be affordable, the addition of a second mortgage payment can increase monthly payments beyond affordable levels. In addition, second mortgages often complicate or prevent modification or refinancing of a first mortgage.

The Second Lien Program will help create a sustainably affordable mortgage payment for millions of homeowners who qualify for a first mortgage modification, yet still face challenges in affording their monthly payments because of a second mortgage.
Compounding the problem is that more than 11 million homeowners owe more on their mortgage than their house is worth, putting them "underwater." For underwater homeowners, reducing the principal owed on the mortgage is more important than interest-rate cuts, because it gives homeowners back their equity in the house and incentivizes them to stick with the mortgage.
Neiman noted to Pandit on Thursday that the second-lien issue "has been a real disincentive that we are hearing from lenders on making particularly principal reductions."
According to Citi's regulatory filings, about 28 percent of its first mortgages are now worth more than the underlying assets, along with about 42 percent of their second mortgages.
WATCH the exchange between Pandit and Neiman below:
<0--2130--hh>0--2130--hh>
Calling all HuffPost superfans!
Sign up for membership to become a founding member and help shape HuffPost's next chapter