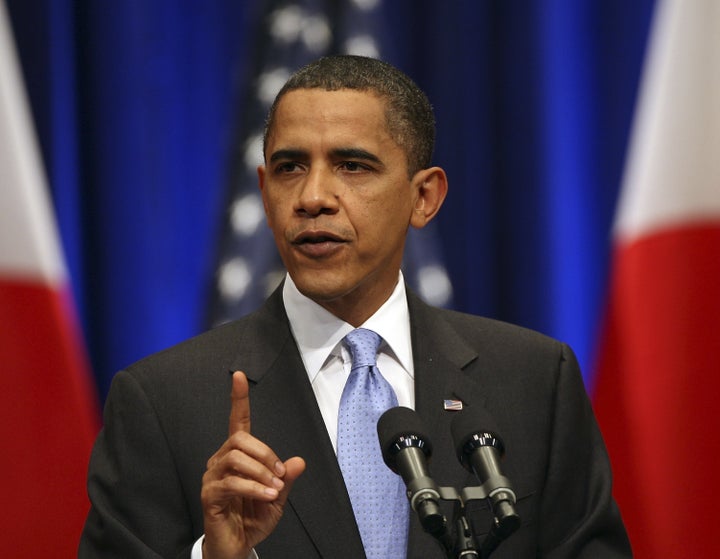 President Obama is slated to deliver a major address on immigration reform this week as his Department of Justice puts the final touches on a lawsuit challenging the legality of the immigration legislation passed by the state of Arizona.
The White House announced on Tuesday that the president would head to American University School of International Service on Thursday for "remarks on the need to fix our broken immigration system."
The speech comes as the administration has spent the last several days consulting with key stakeholders in the immigration debate as well as alerting members on the Hill that the DoJ's lawsuit will likely be announced soon.
On Monday night, officials met with a wide range of immigration-reform and union leaders to discuss steps forward on comprehensive legislation. The list of attendees included Karen Narasaki of Asian American Justice Center, Rosa Rosales of LULAC, Janet Murguia of National Coucil of La Raza, Rev. Samuel Rodriguez of the National Hispanic Christian Leadership Conference, Lillian Rodriguez Lopez of the National Hispanic Leadership Association, Eliseo Medina of SEIU, Richard Trumka, president of the AFL-CIO, Angelica Salas of CHIRLA, Gustavo Torres of CASA de Maryland, Juan Rodriguez of Trail of Dreams, Dolores Huerta, Bishop Kicanas, Vice President of the U.S. Conference of Catholic Bishops, Ali Noorani of National Immigration Forum, and Deepak Barghava, Center for Community Change.
According to an official briefed on that meeting, the president talked through various concerns about the current failures of immigration law, as well as the focal points for implementing a new set of reforms. Obama talked about building off of the legislative framework put out by Sens. Chuck Schumer (D-N.Y.) and Lindsey Graham (R-S.C.). He also reaffirmed his opposition to Arizona's new law -- which would grant broad powers to law enforcement officials to detain and even expel illegal immigrants -- and stressed that the Department of Justice was continuing to review the legislation.
The president is scheduled to follow up that meeting with another gathering at the White House on Tuesday with members of the Congressional Hispanic Caucus. Already, his team has been engaged in the delicate process of Hill outreach. According to a Senior House Democratic aide, officials at the White House have held discussions about the impending lawsuit with members on the Hill, in addition to receiving input from key lawmakers about what kind of immigration reform package stands the best chance of being implemented into law.
Popular in the Community