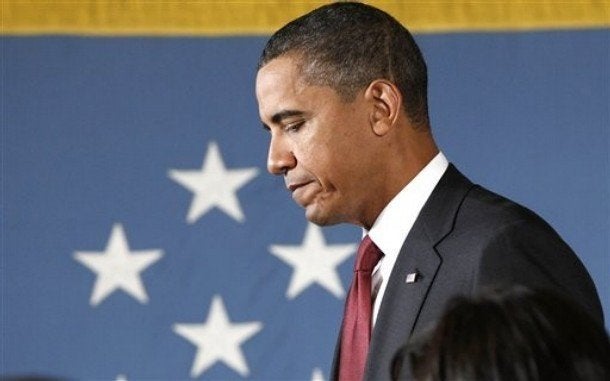 UPDATE: The White House announced Thursday afternoon that President Obama would not sign a bill that some consumer advocates worried would make it more difficult for homeowners to fight fraudulent foreclosures.
The White House noted that the bill was designed to ease restrictions on interstate commerce. "While we share this goal, we believe it is necessary to have further deliberations about the intended and unintended impact of this bill on consumer protections, including those for mortgages, before this bill can be finalized."
Sen. Patrick Leahy (D-Vt.), chairman of the Judiciary Committee, moved the legislation through the Senate without debate on Sept. 27.
"Senator Leahy understands the President's decision not to sign the Interstate Recognition of Notarizations Act, and he supports that decision," said a Leahy spokeswoman in a statement. "When Congress passed the legislation, no concerns or objections had been expressed. Now that concerns have been raised, Congress should reexamine whether this bill might have an unintended impact on foreclosures in the future. We certainly do not believe that is what Representative Aderholt and the other cosponsors of the legislation intended."
The White House is taking a careful look at legislation recently passed by Congress with little notice that would require courts to recognize notarizations from out-of-state, which some consumer advocates say would make it more difficult to fight bogus foreclosures by banks.
"There were a series of meeting on that this morning here," said White House spokesman Robert Gibbs, who added the White House would have a more definitive statement later on Thursday. "It is something that, as you said, there has been a lot of news on, the processing of documentation, the resulting impact on foreclosures, and that is being evaluated....In general, there is concern, ultimately, about the situation."
Max Gardner, a foreclosure defense attorney, said the timing of the bill was suspicious, considering fraudulent notarization of bogus foreclosure affidavits is at the heart of a scandal that has prompted the nation's largest banks to pause foreclosures in 23 states.
"The timing is just a little curious to me that all of a sudden you can't get anything through the Senate at all and then all a sudden on a voice vote," Gardner said. "This was first introduced in the House in 2007."
The legislation, titled the "Interstate Recognition of Notarizations Act," would "require any Federal or State court to recognize any notarization made by a notary public licensed by a State other than the State where the court is located when such notarization occurs in or affects interstate commerce." The bill would also require courts to recognize electronic notarizations.
"The thing that concerns me about the bill is that the provisions in it that allow for digital notarization by electronic means," said Gardner, "which implies that anyone with the appropriate software could notarize a digital document or image of a document, which would allow someone to notarize a document without seeing someone execute the document or doing the things a notary is supposed to do. In my mind that would lead a broad exception for more fraudulent practices."
Ira Rheingold, director of the National Association of Consumer Advocates, told HuffPost he wasn't sure he agreed the bill was so problematic. "Just because you get a lawful notarization of a bunch of lies doesn't change your ability to challenge an affidavit as a bunch of lies."
The legislation passed the Senate without debate on Sept. 27 following a "unanimous consent" request from Sen. Robert Casey (D-Pa.). Casey's office told HuffPost that the senator made the request on party leadership's behalf. "He had nothing to do with the bill himself," a spokesman said.
Reuters reported that, with the help of Sen. Jeff Sessions (R-Ala.), "Judiciary Committee Chairman Patrick Leahy pressed to have the bill rushed through the special procedure, after Leahy 'constituents' called him and pressed for passage." Previous versions of the bill have died in the Judiciary Committee after being passed by the House.
Ohio Secretary of State Jennifer Brunner, who has blogged about notarization problems, told HuffPost she also considered the timing of the legislation suspicious, coming in the midst of a series of announcements by banks that foreclosure procedures are under review. "It's almost like H.R. 3808 was a trap door."
The bill's sponsor in the House, Rep. Robert Aderholt (R-Ala.), was surprised by the speedy passage of the bill and the intensely negative reaction it's gotten. "There is absolutely no connection whatsoever between Congressman Aderholt's legislation and the recent foreclosure documentation problem," said a spokesman in an email to HuffPost. "Congressman Aderholt has been pushing this bill since April of 2005 when he first introduced it in Congress. Obviously, there was no controversy regarding foreclosure documents at that time.
"The Interstate Recognition of Notarizations Act will improve interstate commerce by requiring that lawfully notarized documents be recognized across state lines. The law, once enacted, will strengthen consumer protections by requiring identification of notaries by means of seal and in rendering electronic documents tamper resistant."
Sam Stein contributed reporting.
Related
Popular in the Community