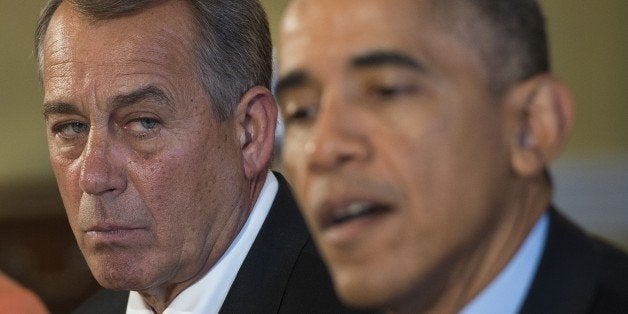 Republicans are issuing dire warnings to "Emperor Obama" that his planned executive action to grant deportation relief to millions of undocumented immigrants would "poison the well" in Congress.
Hold off until January, they say, to give Speaker John Boehner (R-Ohio) and newly elected Senate Majority Leader Mitch McConnell (R-Ky.) a chance to pass a comprehensive bill that would beef up border security and fix the broken immigration system -- regardless of whether a bill doing just that already exists. Then, the logic goes, Obama will have willing and faithful partners to pass something, anything, in a Congress long mired by partisan gridlock.
But can the president "poison a well," to borrow the phrase, that's been poisoned time and time again? According to the GOP, Obama has done so repeatedly, on just about every initiative he has tried to push through Congress. Washington is swimming in poisoned well water, and has been for years.
The Democratic opposition research group American Bridge on Thursday compiled a list of the many times Republicans have warned that Obama would "poison the well" in Congress. Here's a sampling:
"It hurts. It certainly would poison the well with a lot of Republicans." -- Sen. Jeff Flake (R-Ariz.), on Obama taking credit for a deal on immigration principles reached by a bipartisan group of eight senators in January 2013.
"[Obama] may have even set back the cause a bit. He's poisoned the well for people willing to take on this issue." -- Sen. Marco Rubio (R-Fla.), on the president's 2012 executive order on immigration.
"He's been a political cheerleader on this, and he's poisoned the well. There's some solutions out there, but he picked three things that really wouldn't fix the system." -- Sen. Lindsey Graham (R-S.C.), on the president's gun control push in the wake of the Newtown, Connecticut, school shooting.
"The president's actions and attitude over the past couple of weeks have certainly poisoned the well and made it harder to work together on any issue." -- a GOP leadership aide, in response to the October 2013 government shutdown fight.
"He could have worked to reach a fair agreement, but instead he picked a fight, poisoned the well, and now we are likely to have a rather unproductive next four years. The decision he made only hurts himself." -- an unnamed GOP aide, in response to the "fiscal cliff" fight over tax rates in 2012.
"It poisons the well." -- Sen. Bob Corker (R-Tenn.), of Democratic efforts to repeal "don't ask, don't tell" in a December 2010 debate on the New START.
"There will be no cooperation for the rest of the year. They have poisoned the well in what they've done and how they've done it." -- Sen. John McCain (R-Ariz.), on the passage of the Affordable Care Act in 2010.
REAL LIFE. REAL NEWS. REAL VOICES.
Help us tell more of the stories that matter from voices that too often remain unheard.
BEFORE YOU GO
PHOTO GALLERY
11 Ways Immigration Reform Helps The Economy